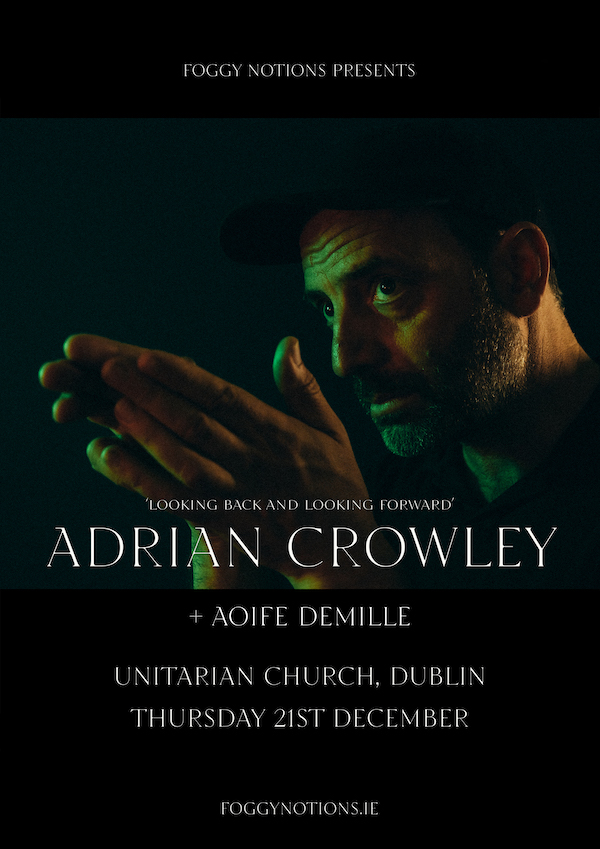 Presented by Foggy Notions
Adrian Crowley & Aoife DeMille
The Unitarian Church
Dec. 21, 2023
8 p.m.
All Concerts
---
Adrian Crowley & Aoife DeMille
Adrian Crowley 'Looking back and looking forward' at The Unitarian Church, Dublin, December 21st 2023. Tickets on sale now.
Prolific songwriter Adrian Crowley delves into his panoramic and critically acclaimed 9 album back catalogue, while also presenting nascent music and previews of what is to come....
Adrian Crowley is a a prolific recording artist, widely acclaimed songwriter, singer, composer and multi instrumentalist.
Attempted comparisons with Adrian Crowley's powerfully emotive, complex and contemplative songs range from Scott Walker to Ivor Cutler, Lou Reed to Nick Cave, but the potency of Crowley's rich baritone voice and haunting lyrical narratives, amid settings that alternate sweeping sonic majesty with ghostly starkness, is uniquely his own.
To date he has released nine albums. The most recent, The Watchful Eye Of The Stars, was produced by John Parish (PJ Harvey, Aldous Harding, Sparklehorse) and was met with widespread acclaim. The album saw Crowley touring extensively around Europe and the UK. A song from the album was shortlisted for RTE Radio 1 Folk Awards for best original song. Since the release, he has recorded sessions for New York radio station. WNYC and WFMU. Legendary show New Sounds at WNYC, New York placed The Watchful Eye Of The Stars in their top 10 albums of 2021. Crowley has recorded with artists such as Lankum, Brigid Mae Power, Lisa Hannigan, Crash Ensemble and Thomas Bartlett, among others.
Adrian Crowley grew up in Galway and now calls Dublin home.