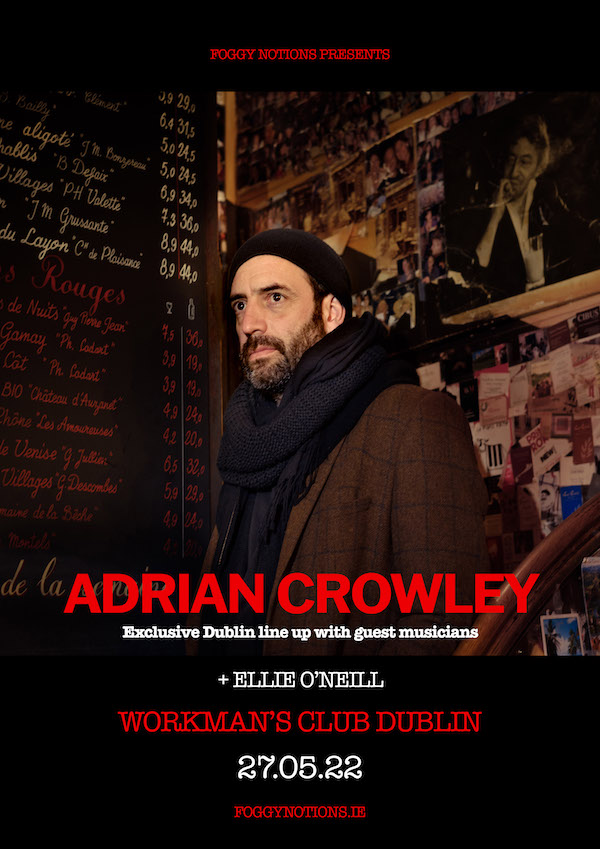 Presented by Foggy Notions
Adrian Crowley & Ellie O'Neill
The Workman's Club
May 27, 2022
8 p.m.
Additional Ticket Link
Tickets
All Concerts
---
Adrian Crowley & Ellie O'Neill
Tickets on sale now for an exclusive Dublin line up with guest musicians.
Foggy Notions are proud to present Adrian Crowley at The Workman's Club on Friday, May 27th 2022. Adrian released his ninth album 'The Watchful Eye Of The Stars' on Chemikal Underground in April 2021.
Today Adrian Crowley premiers the stunning video for 'Catherine In The Dunes' a song originally on acclaimed release Dark Eyed Messenger. The video features and was directed by artist/director/actress Vera Graziadei.
One stormy night in Ireland, Adrian Crowley's brother brought home a wounded crow. After taking care of it for a time, the crow flew away on its own, leaving an impression behind: Crowley wrote a story, which would later become the aptly titled "Crow Song" on this, his brand new record & ninth studio album The Watchful Eye of the Stars. He sings, "And I was joyous for you, but shattered nonetheless." Suffused with a hazy and surreal quality, Crowley describes Watchful Eye's poignant narratives as those which insisted themselves upon him. After the fact, it seemed these songs came to him more or less fully formed. "It's a beautiful and mysterious thing," he says. Perhaps it is a tendency to hold onto memories ("It's taken me so long to write to you / Well I just couldn't find a pen," he laments in "Bread and Wine"), that allows him to unleash them lyrically in completion. For Crowley, the creative process is an organic event rather than a practice he feels compelled to regulate or control. He approaches lyrics much like he does short story writing. "The songs straddle the conscious and subconscious world and some are even psychedelic in my mind, but to me they are all at once true stories and born of another place," he shares.
In making the album, Crowley moved between studio and at home recording, while John Parish (Aldous Harding, PJ Harvey) produced. The pair worked from tracks made initially by Crowley on a charity shop ¾ size nylon string guitar or Mellotron: "In this way, John wanted to keep some of the magic of that first take", says Crowley. Contradictions and complexities are left intact, initial recordings were limited to one or two takes, and the songs feel more like a dream recounted upon waking.