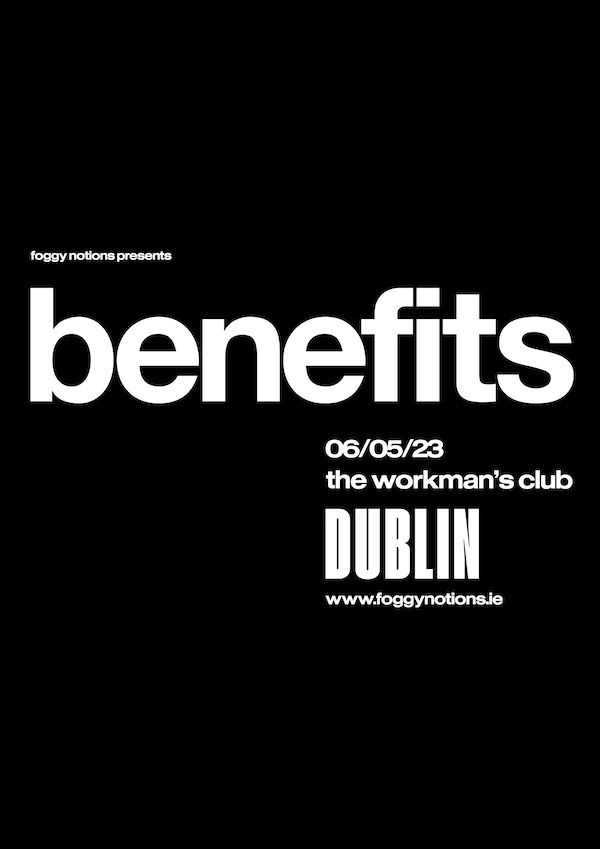 Presented by Foggy Notions
Benefits
The Workman's Club
May 6, 2023
8 p.m.
All Concerts
---
Benefits
Foggy Notions presents the Irish debut of Benefits. Ticket on sale now.
Praise for Benefits
"I fucking love Benefits." Steve Albini
"Benefits are something different, something primal and essential that needs to be heard." NME
"A mangled car crash of noise…intense, exhilarating and thoroughly absorbing. Utterly glorious." Louder Than War
"An urgent combination of noise rock and spoken word fury." Rolling Stone
"…scorching, heavily politicised spoken word, roared with overwhelming intensity over punishing electronic noise…" The Quietus
"…cathartic, relentless, unifying, unmissable." NARC
Today, critically acclaimed Teesside agitators Benefits return with the announcement of their much-anticipated debut album 'NAILS'. The return is accompanied by the news of the band's signing to Invada Records (BEAK>, Billy Nomates, and more), as well as a stunning video for their new single 'Warhorse', which is also out today.
In their four years of existence, much has changed for Benefits. Over lockdown they morphed from spirited guitar-led punks into overwhelmingly brutal harsh noise-wielders, whose furious, eviscerating music garnered them the kind of word of mouth following most artists can only dream of. Frontman Kingsley Hall's spoken (and screamed) vocals acting as a righteous rebuke to the divisive, xenophobic, poisonous rhetoric coming from elsewhere, spread by those who stand to profit from the fallout, that had all but overwhelmed our public discourse.
Every time one of the band's bracing polemics arrived it would spread rapidly across social media like an antidote to that disease and gather more to Benefits' cause. High profile fans like Steve Albini, Sleaford Mods and Modeselektor were among those on board from the off. Effusive coverage from the likes of NME, The Quietus, Loud & Quiet and The Guardian and more soon followed. Through it all, the outfit remained staunchly DIY, operating entirely without a label, press team or industry leg-ups.
Now, however, they are stepping things up a level, signing to esteemed indie imprint Invada who will release their debut album 'NAILS' on April 21. "We could have released a record at any point over the last couple of years but held back because I wanted to wait until the right people came along," Hall says. The label's co-founder Geoff Barrow of Portishead was one of the many who'd been drawn to the music as it made waves online, and when he came to see the group perform live in his native Bristol was immediately hooked. His faith in the band has been repaid and then some, producing a record that not only confirms the group's brilliance, but also redefines what you thought was possible. It captures all of that validating rage that established them one of the most exciting acts in the country – skull crushing fan favourites 'Flag', 'Empire' and 'Meat Teeth' are all present and correct – but also pushes their sound into bold new territory, both sonically and emotionally.
Take lead single 'Warhorse' for instance. A playful riposte to those whose limited musical horizons have seen them question the band's 'punk' credentials, the band gathered a series of crushing drum fills, and transformed them into a relentless, inherently danceable electro banger. "I love punk, I love cartoon punk, I think it's brilliant," Hall says. "Sometimes we get all that 'you're not shit, you're not punk.' Bullshit! Yes we are." He also, however, knows that sometimes the best way to deliver his kind of message is to get people moving. "An iron fist in a velvet glove," he says, hence the intensified focus on pure rhythm.
Speaking on the message behind the single, Hall goes on to say: "At some point if the boot continues to stamp on us, we're going to react. Things bug me. They start as little irks and become fiercer. It can take days, sometimes minutes. The phrase "cost of living" being blurted out by an MP when confronted with the poverty of their constituents. Simpering and grovelling to decrepit hierarchical systems. Pageantry and pomp in a time of austerity and cuts. 'Warhorse' is a battle. It's about being tired of being told there's no options left - being told to bow and courtesy and to shut your face. 'Warhorse' is about the need to push that boot back from our faces, raise our heads, stand up and fight."