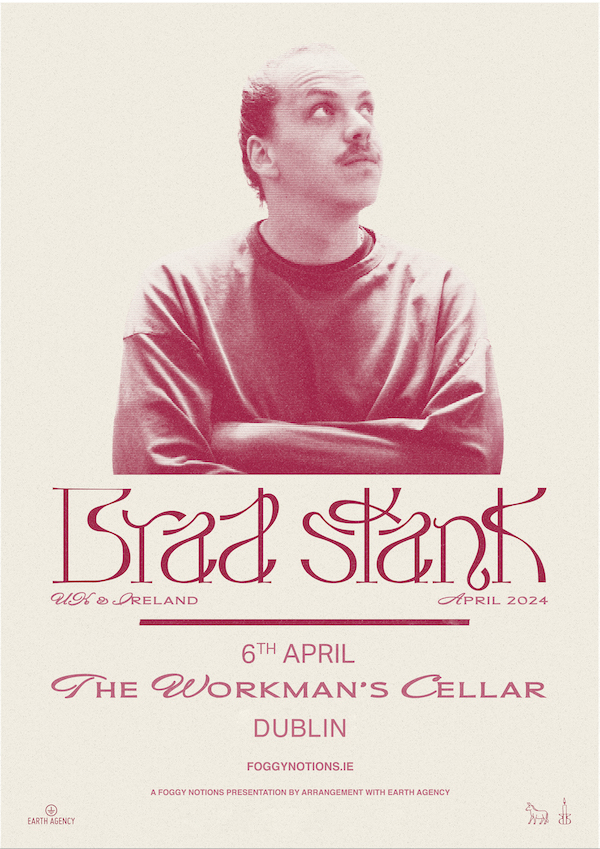 Presented by Foggy Notions
Brad Stank
The Workman's Cellar
April 6, 2024
8 p.m.
Additional Ticket Link
Tickets
All Concerts
---
Brad Stank
Tickets on sale now.
NEW ALBUM IN THE MIDST OF YOU TO BE RELEASED ON JANUARY 26TH VIA SUNDAY BEST - PRE-ORDER / PRE-SAVE HERE
"Probably the only weirdo Scouse jazz crooner you'll ever need." - i-D
"Confirmation that he is a master of the sultry slow jam." - The Line of Best Fit
"Jazz-leaning twilight ruminations that puncture the mythology of R&B, the Liverpool songwriter's work has a sensual, almost carnal property." - Clash
Liverpool's acclaimed sensual existentialist Brad Stank today announces the release of his resolutely romantic new album In The Midst of You on January 26th via his new label Sunday Best Recordings. He launches the album alongside the quintessentially Brad 'Natty Wine' and its accompanying video.
The new single 'Natty Wine' neatly encapsulates the many charms that emerge throughout the album. With Brad backed by soulful female vocal harmonies, the song's jazzy psychedelia possesses a touch of twanging Americana, its warm and vibrant live instrumentation making for a song as relaxed as a Sunday afternoon in the sun. It's also notable for featuring Brad's favourite percussive instrument deep in the mix: a wooden frog.
He adds, "This is a tongue-in-cheek song I wrote after being gifted a bottle of natural wine by a friend. I'm a working class boy who would much rather drink shitty lager at a party, like Stella or Holsten Pils. I've got no right to be writing a song about natty wine but I was feeling bougie. It's a love song in disguise, I liked the imagery of lyrics like, 'Your sweet loving just keeps dripping from the vine.'"
The video for 'Natty Wine' was shot in the dramatic landscapes of Birling Gap in East Sussex with a cast of fantastical characters who habit the video's gently surreal and dream-like scenes. Created by Brad's long-time collaborators La De La Studio (Kieran Rid & Corey Rid), who are at the helm on all the visual aspects of the album campaign, 'Natty Wine' is the starting place for Brad's aesthetic through the campaign.
"With a nod to the folklore tales of the past, the video employs key narrators in the form of fantastical characters that seek to punctuate Brad's dreamy lyricism," explain La De La Studio on the creation of the video. "In particular the 'candle' figure who introduces the tale, a watchful figure who stands still and serene against the ever moving tide. Our aim was to invite the viewer to delve deeper into Brad's subconscious. A projection of pure fantasy and escapism.
"The contrast between the permanence of the landscape and the fragility of the DIY-style man made props highlights the transient feelings of love and lust spoken through the song's lyrics. For this shoot we collaborated with a brilliant team of people and a four legged friend in the salty winds of the South Coast. It is a film we're very pleased to have created, and hope it gives fans an intriguing glimpse into the mystique of Brad Stank."
In The Midst of You finds Brad in late night lothario mode, his previous seductive style now taking a more resolutely romantic and perhaps surprisingly spiritual direction. The phrase "in the midst of you" comes from the Bible, Zephaniah 3:17, "the full quote is something along the lines of "God is in the midst of you" - basically meaning that you have to look inward for peace or enlightenment, etc. the album is about that in parts and also, as always, I tried to put a romantic twist on it so that the "in the midst of you" is about being in love with somebody. It's kind of a juxtaposition but I've always enjoyed taking spiritual messages and giving them a double meaning, explains Brad. "Hopefully it's a positive message of prostrating yourself to somebody, or to spirituality or something - but giving yourself fully to something , being in the midst…"
The stoned baritone of his voice brings the after-hours vibe to a collection of songs which playfully traverse R&B, laidback psychedelia and jazz - often simultaneously echoing Barry White and Love Unlimited with Marvin Gaye, Ween and Mac DeMarco. If you enjoyed Brad's previous impressively unhurried slow jams such as 'Flirting In Space' or 'O.T.D.', you will discover that In The Midst of You lives up to his early potential with new-found grace and elegance, as well as his original desert dry humour.
Beyond 'Natty Wine' and the recent slacker rock single 'Flicker On!', In The Midst of You drifts lackadaisically between standout moments such as the sizzling '80s soul of 'My New Heaven' and 'Don't Go, Don't Go', a ballad of tender sophistication that was inspired by his love of Canadian indie-poppers TOPS. Elsewhere, the hazily hypnotic 'Cry Baby' mixes things up with charismatic rhymes from rapper Lord Apex, while the title track is something else entirely - a sonic journey that begins with downbeat atmospherics before taking flight into joyous, swelling gospel. It's a song which really showcases what Brad is capable of, and closes the album on a high.
In The Midst of You was recorded in Bermondsey with Andy Ramsey of Stereolab. Joe Watson from Stereolab also played all the piano on the record "he was supposed to come and play on a couple of tunes but I loved how it made all the songs sound a little more 70s and Barry White-like so I asked him to play on pretty much everything" says Brad. The album also saw Sean O'Hagan (The High Llamas) giving his assistance on the arrangements, while Lydia Kitto (Jungle, Ezra Williams) adds gorgeous vocal parts throughout. Gal Go (King Krule) on the saxophone adds his own stamp to the record, while Brad's Liverpool friend Rachel Dover (Mike Blue) also plays some lovely warm saxophone on a couple of tracks.
Brad stank's first memory of music was air-drumming to Dinosaur Jr. as a child and one of his first notable music projects was drumming for real for Trudy and the Romance. Raised in Chesterfield, he relocated to Liverpool where he started to rise as part of the city's resurgent and varied underground scene. His debut body-of-work was the 2018 EP 'Eternal Slowdown' before his full-length debut album 'Kinky Om' followed in 2020. Notable shows to date have included gigs with Clairo and Her's, who Brad is close friends with having played together at university, as well as this year's SXSW. In addition to his wide-ranging musical influences, his interests in literary icons like Jack Kerouac and the world of spirituality also informs his work, specifically the poets and philosophers Rumi, Mirabai, Krishnamurti and Li Po "I would say I've been directly influenced by their works in the process of writing the album," explains Brad. "Krishnamurti appears on the album, and 'Don't Go, Don't Go' is the title of a Mirabai poem. She also has a poem called 'In The Heat of Midnight Tears', which is where I took the name of the intro from." This, alongside an addiction to the NYT crossword.