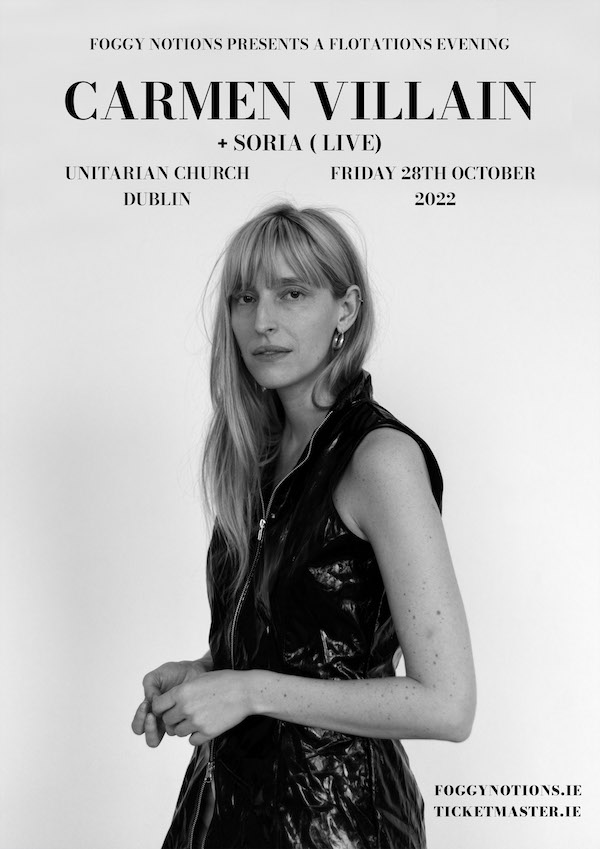 Presented by Foggy Notions
Carmen Villain & Soria (Live)
Flotations Series @ The Unitarian Church
Oct. 28, 2022
8 p.m.
All Concerts
---
Carmen Villain & Soria (Live)
We are proud to present a Flotations evening with Carmen Villain (Irish Debut). Tickets on sale now.
The diverse sonic worlds that Carmen Villain has built over her career invite the listener to explore depths, caverns, and intimacy within a discography shaped by her natural curiosity of sound, and of seeing the potential for music in everything. Carmen grew up immersed in music; her Mexican mother and Norwegian father were both guitarists, while childhood experiences playing classical piano at home and clarinet in a marching band reinforced the feelings of community that buoy her music - feelings that are less easily visible in a solo work. Her teenage years were spent absorbing dub sonics and rap bombast alongside punk and shoegaze in a crowd of stoners and skaters, until a chance discovery on the street by a stylist opened the door to a modelling career that led her to front covers worldwide. Moving to New York at 17, she also spent time living in London before returning to Oslo, where she remains today with her family.
Far from the sparse and introspective ECM-style jazz of popular memory commonly associated with Norway, the isolations and sensations Carmen channels can also be found in Jon Hassell's sublime worldbuilding exercises, Brian Leeds' immersive tableaux as Huerco S and Pendant, and the "freak energy" of Arizonan psychonauts Sun City Girls - an energy "that sounded like nothing else before" to her younger self, "inspired by the whole world (and) not just Eurocentric" touchpoints. Her most recent album Only Love From Now On is more explicit in calling out to those influences and inviting them into her universe; to Ana, on the eponymous Silueta; to Jon, with the prismatic shimmering of his contemporary Arve Henriksen on Gestures; and to Brian, who reworked her Subtle Bodies into billowing and gaseous shapes. With any horizon blurred and distant, Carmen Villain will continue to follow those shapes, sparks, and ideals, to build many more worlds for us to explore.
Only Love From Now On:
"The most dynamic, unpredictable album of her career" - 7.8 Pitchfork
"Continues a run of near perfect releases[...] Carmen Villain is a world builder" - The Quietus
"A triumph of quiet beauty" - The Fader
"Heartbreak melodies spill out, or a deep dub pulse bubbles up… lush downtempo that splits the difference between Fourth World ambience and smoky trip hop" – Resident Advisor