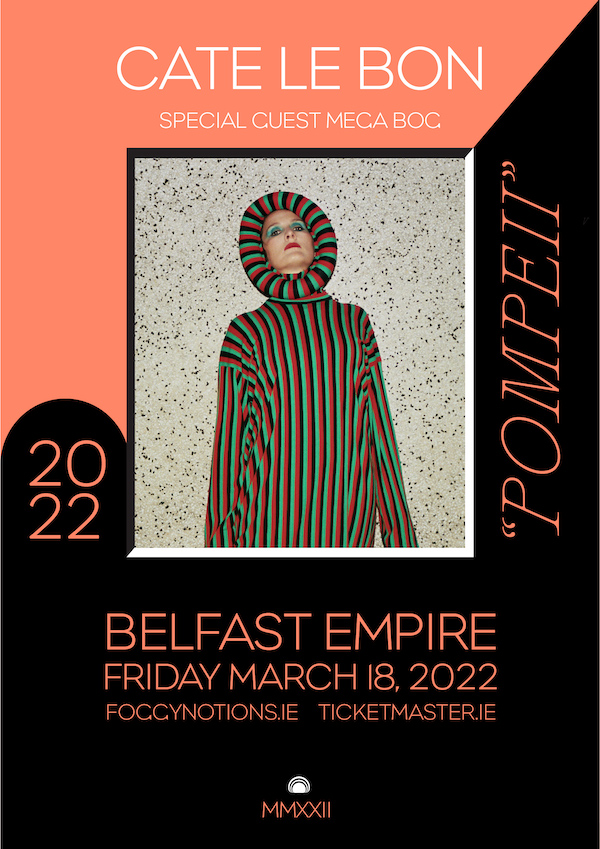 Presented by Foggy Notions
Cate Le Bon & Special Guest Mega Bog
Empire Belfast
March 18, 2022
8 p.m.
All Concerts
---
Cate Le Bon & Special Guest Mega Bog
Cate Le Bon has confirmed a return to Belfast to perform to at The Empire Music Hall as part of her 2022 UK & European Tour. Special guest will be Mega Bog.
Cate Le Bon will release Pompeii, her sixth full-length studio album on February 4th, 2022 on Mexican Summer. In conjunction, she presents its lead single/video, Running Away. The songs of Pompeii, the follow up to 2019's Mercury-nominated Reward, feel suspended in time, both of the moment and instant but reactionary and Dada-esque in their insistence to be playful, satirical, and surreal. Songs built for now miraculously germinate from Le Bon's interests in antiquity, philosophy, architecture, and divinity's modalities. A global pandemic plus climate emergency's colliding eco-traumas resonate all too eerily. "What would be your last gesture?" she asks. But Pompeii reaches past the current crises to tap into what Le Bon calls "an economy of time warp" where life roils, bubbles, wrinkles, melts, hardens, and reconfigures unpredictably, like lava—or sound, rather.