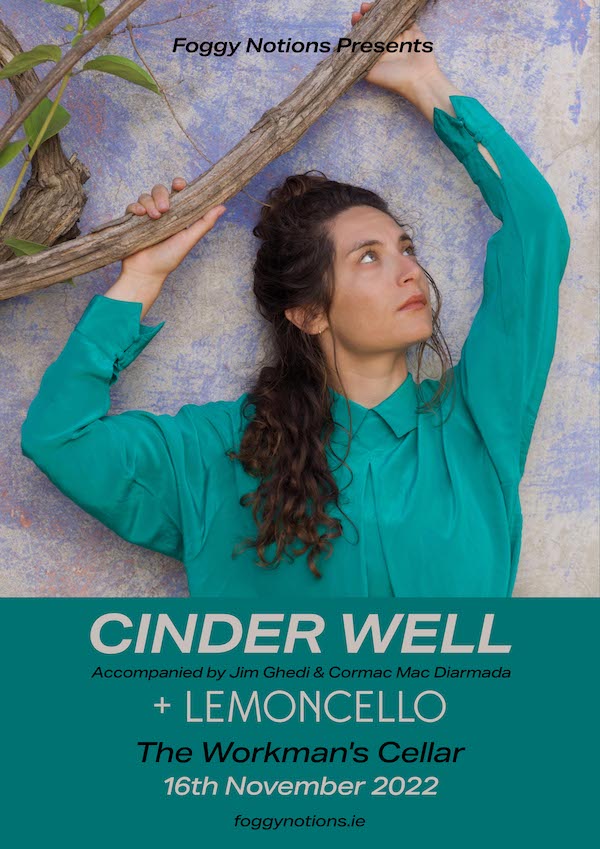 Presented by Foggy Notions
Cinder Well with Jim Ghedi & Cormac Mac Diarmada & Lemoncello
The Workman's Cellar
Nov. 16, 2022
8 p.m.
All Concerts
---
Cinder Well with Jim Ghedi & Cormac Mac Diarmada & Lemoncello
Foggy Notions presents Cinder Well accompanied by Jim Ghedi & Cormac Mac Diarmada and special guests Lemoncello. Tickets on sale now.
California-based Cinder Well's doom folk music strips traditional forms, creating a meditative, trance-like space. Her voice cuts to the bone like some ghostly ballad singer.
The sparse soundscapes and haunting stillness of her album No Summer released in 2020 on Free Dirt Records, were inspired by Amelia Baker's time living in Ireland. As a member of folk-punk project Blackbird Raum, her time on the circuit with Lankum led her down a path of spending several years living in County Clare and studying traditional music of the region. It was there that the rich musical connectivity and landscapes led to the creation of the much acclaimed album, No Summer — and the place that drew her to the rich dissonance of her music as Cinder Well, a dissonance caught between worlds and histories.
Cinder Well returns to Ireland this November, accompanied by Cormac Mac Diarmada (Lankum) and Jim Ghedi.