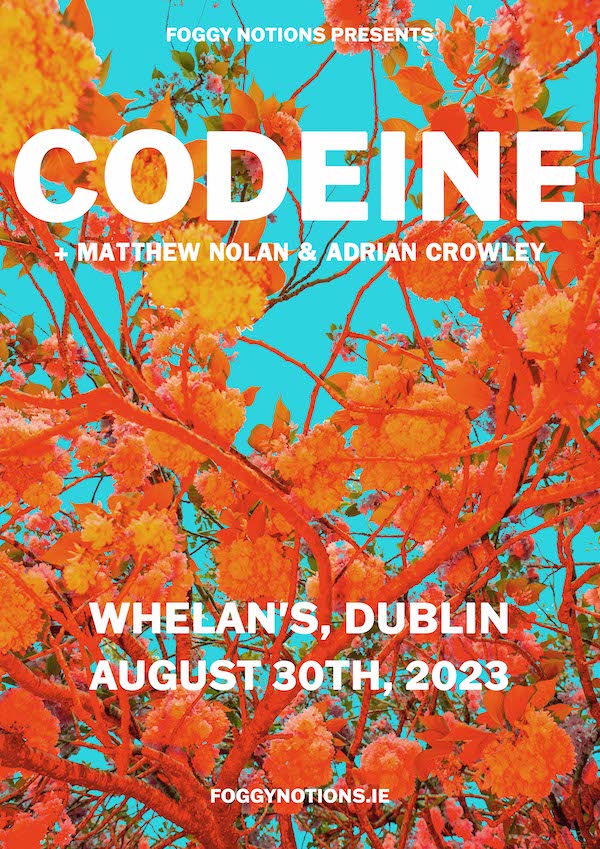 Presented by Foggy Notions
Codeine & Matthew Nolan & Adrian Crowley
Whelan's
Aug. 30, 2023
8 p.m.
Additional Ticket Link
Tickets
All Concerts
---
Codeine & Matthew Nolan & Adrian Crowley
Tickets on sale now.
90's band Codeine is playing 10 EU/UK shows in support of their lost album Dessau, recorded in 1992 but released just last year, along with new, colored vinyl reissues of their three original Sub Pop records: Frigid Stars LP, Barely Real (EP), and The White Birch, all via the archival label Numero Group.
With the release of Frigid Stars LP (1990), Codeine almost single-handedly invented what would later become known as "slowcore." Predating influential albums by kindred spirits Low and Duster by almost half a decade, Codeine's slow, graceful songs support lyrics that are a disturbingly pure embodiment of depression. The band ground to a halt in 1995, their final release being a cover of Joy Division's "Atmosphere," which recently found its way onto the tv series, 13 Reasons Why.
These will be Codeine's first non-US shows since 2012 (when they played a similar number of dates supporting Numero's compendium, When I See the Sun) and follow sold-out shows in New York City and LA earlier this year.
Listen to Stephen Immerwahr's dour poetry, John Engle's tolling guitars, and Chris Brokaw's glacial drumming, and picture falling snow. The sound, which typified the slowcore indie-rock subgenre, is so chilling, precise, and beguilingly extreme—shy, then crashing—that it recalibrates the vast spaces around each inquisitive note. It becomes an exploration of tone and tension, and a desolate meditation." – Jenn Pelly/The New Yorker.
About Dessau:
Recorded in June 1992 at Harold Dessau Recording studio in New York City with founding drummer and guitarist Chris Brokaw, Dessau consists almost entirely of alternate versions of songs later rerecorded by the band. The tapes were ultimately abandoned for reasons that included high-frequency noises audible only to one band member, flooding, and Chris Brokaw's departure as full-time guitar hero in Boston's Come. Two songs appeared on their Barely Real EP, a handful of others would end up on The White Birch (1994) in versions starker and more epic, recorded with powerhouse drummer Doug Scharin (later of Rex, June of 44). Last year, Numero Group resurrected the Dessau recordings, which have been released with the original art planned for the album: a turbulent green and blue painting by American tonalist Thomas Wilmer Dewing.
"Dessau arguably stands as the best of Codeine's three albums, a perfect snapshot of the existential anxiety that can arrive in one's late 20s, when adolescence fades far into the rearview, but the future is closing in fast." - Grayson Haver Currin/Bandcamp
Personal quote::
"In 2012, when Codeine agreed to play shows after 20 years, I was extremely reluctant, and also very nervous about being inside the songs again. But talking to people who hadn't seen the band back then but to who really enjoyed our music, that absolutely turned my head around. Now in 2023, I am not afraid any more; I'm really looking forward to it. The two Brooklyn shows we just played were crazy packed and the LA show had people coming from all over the country and singing along, so I'm hopeful we'll have some of that here too." -Stephen Immerwahr