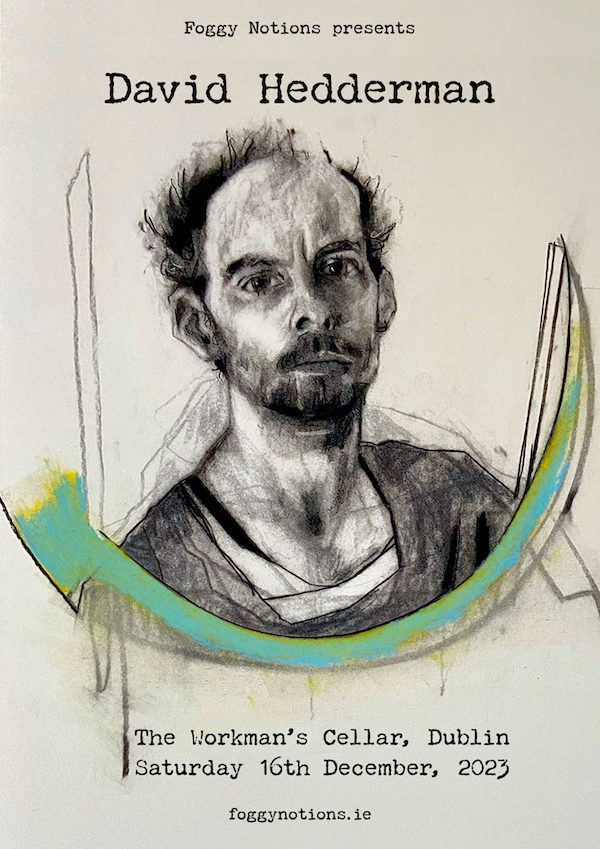 Presented by Foggy Notions
David Hedderman
The Workman's Cellar
Dec. 16, 2023
8 p.m.
All Concerts
---
David Hedderman
Tickets on sale now.
Over the last twenty years, Dublin-born and Berlin-based artist David Hedderman has cultivated an impressive career as a visual artist with his vibrant style of portraits which often feature beautifully textured and captivating backdrops for his figures to exist within. Hedderman's striking idiosyncratic style seamlessly translates in his songwriting, as demonstrated in his dynamic and deft debut album, Pulling At The Briars. These ten multi-faceted compositions are sensitively layered with sumptuous and sweeping instrumentation. Its tonal palette is enhanced by a rich palette of emotive guitar melodies, soft percussion and wistful flourishes of pedal steel, piano and violin. These beautiful soundscapes are endlessly inviting, each return drawing audiences closer towards the many aspects of his artistry.
Written over a 15 year period, Pulling At The Briars captures a transitional period for Hedderman during which he relocated to Berlin, Germany from Dublin, Ireland in the mid-2000s. The initial months and years were shaped by intensive periods creating art whilst cultivating a community of like-minded creatives in Berlin. With regards to the latter, Hedderman engaged in regular music sessions, eventually inviting musicians to his Kreuzberg studio to play together. This ritual not only served as an invigorating social outlet but through playing music, Hedderman was able to process several informative events that occurred throughout his twenties and thirties.
Recorded live over five-days with Brendan Jenkinson (Aoife Nessa Frances, John Francis Flynn, Villagers) in Sonic Studios, Dublin, Ireland, Pulling At The Briars was produced by Conor O'Brien (Villagers), Hedderman's close childhood friend and former bandmate in The Immediate. The atmosphere conjured during the recording sessions was amplified by the potent cast of collaborators featuring Peter Broderick, David A. Tapley (Tandem Felix), Corey Blair, and Aidan Gorman, each of whom add rich flourishes to the expansive material.
Of the recording sessions for Pulling At The Briars, Conor O'Brien says: "Something magical happens when musicians spend thousands of hours playing together: there appears an unspoken synergy, some kind of holy spark that could never be replicated were it not for that sacred backlog of shared creative endeavour. When myself and Dave were fresh out of school and working on songs for our band The Immediate in the early and mid 2000s there was a deep collective feeling that we were living inside our work. In our collaboration, alongside co-conspirator Peter Toomey, we developed a system of leaning into each others' particular idiosyncrasies and amplifying each others' singularities. When Dave asked me to be involved in his first album of solo material, I knew I would only need to lean in again, and thousands of hours of symbiotic work-play would do the rest. A tremendous motley crew of musicians gathered together to treat the songs with the tenderness they deserve, playing them live in the studio until we got the right take, just like in the old days. It was heaven to be behind a drum kit again, providing a backbeat for my old pal and his new band. I think Dave has made something special here."
Hedderman's practice of playing music to provide a therapeutic space as he navigated new surroundings and came through challenging - but universal - life experiences is captured in both the performances and considered production of his masterful debut album. These ten lush arrangements are anchored by an evocative vulnerability felt across his earnest lyricism. In his explorations of grief, the breakdown of relationships and adapting to life in a new country, he eloquently articulates his experiences, melding an endearing playfulness in his expression with powerful poetic imagery that stays with the listener long after stepping away from the album. This unique quality immediately evokes an endearing and enveloping warmth across Pulling At The Briars, culminating in an extremely accomplished and welcoming introduction to Hedderman's solo material.
Speaking about the process of writing his debut album and his ever-evolving relationship with the work, Hedderman says: "These songs have been quite therapeutic and, in the early years of writing and playing them, I didn't really see them as songs I would release, somehow. Something I've learned from making art, which was heightened by the recording and mixing of this album, is that there's something cosmic that happens when you're in the moment. As I said, these songs have been a therapeutic thing and I didn't set out for there to be an overarching theme to the work. Then it would feel contrived for me. With there being so much time that's passed since writing some of these songs, I have distance from some of the subject matter and I wanted to be able to deliver them in a more theatrical way. I'm so glad to have that distance and what I would hope for is that audiences are allowed into the songs rather than being told what to do or how to feel. visual art, What I've learned with my visual art is that if you make something so realistic, there's nothing for the viewer. You don't let the viewer in. But if you make something that's abstract, it invites people to venture through in their own way. That's really the way that I approached this album."
Hedderman explains the significance of the album's title and how it reflects the overall narrative of this deeply personal and resonating work. "It came from a trip I made to the West coast of Ireland making portraits of people. I was also doing some work outdoors with my friend and we were told we had to pull briars out of some walls in the lashing rain. Afterwards, I remember it being a very heightened memory after that trip of it being very cathartic and symbolic. The act was quite literally doing something in the pursuit of clearling, unclogging. I've often seen that as how I've treated music in a cathartic way, as a form of therapy. Holding the guitar and singing is my way of getting things out. The album's title is a lyric in one of the songs and I think it nicely umbrellas the whole album in how it addresses the ways that I try to untangle life."
Introducing David Hedderman's sound, 'Blue Jeans' is the debut single from Pulling At The Briars. The song, which will be released on Friday, September 15th, is a luminous representation of the album as it delicately weaves the lush textures of pedal steel, violin and the haunting resonance of piano which beautifully permeate throughout the record with a mystifying air. Of the themes anchoring 'Blue Jeans', Hedderman explains: "It's a song that mixes the minutiae in life with the big things and seeing them through a filter; watching or experiencing things from a distance in order to be able to process the big questions."