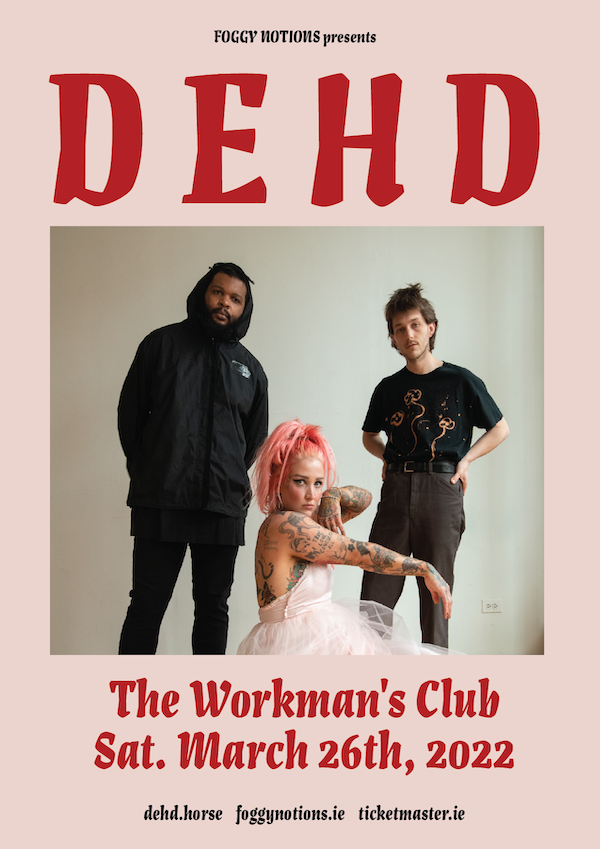 Presented by Foggy Notions
DEHD
The Workman's Club
March 26, 2022
8 p.m.
All Concerts
---
DEHD
We are pleased to announce the debut Irish performance from Chicago trio, DEHD.
In July of 2020, DEHD released their sophomore album Flower of Devotion, which got Best New Music on Pitchfork and was included in Best of 2020 lists from The FADER, Pitchfork, Paste, NPR Music, UPROSS, Vice, and more. Flower was a major step forward - and a major statement, period - for the band. The songs reflected the band's deep range, from "Loner" with it's synth powered heartland rock to the empowered strut of opener "Desire" to the from-the-gutters howl of closer "Flying." The performances were sharp, displaying a polish that brings out the shining and melancholy undertones in members Jason Balla and Emily Kempf's songwriting. In September 2021, Dehd released Flower of Devotion Remixed– a remix of their "lush and inviting" sophomore album. Flower of Devotion Remixed sees Dehd surrounded by a myriad of close collaborators (Protomartyr, Freak Heat Waves, Lala Lala and more), and points a shining spotlight on the Chicago music scene the band still calls home.
DEHD are spending Fall of 2021 touring across North America, playing a string of sold out headline shows as well as support for Julien Baker. 2022 will see the band traveling to EU opening for Future Islands, before heading into a headline tour of the UK. New album is set for Summer 2022.