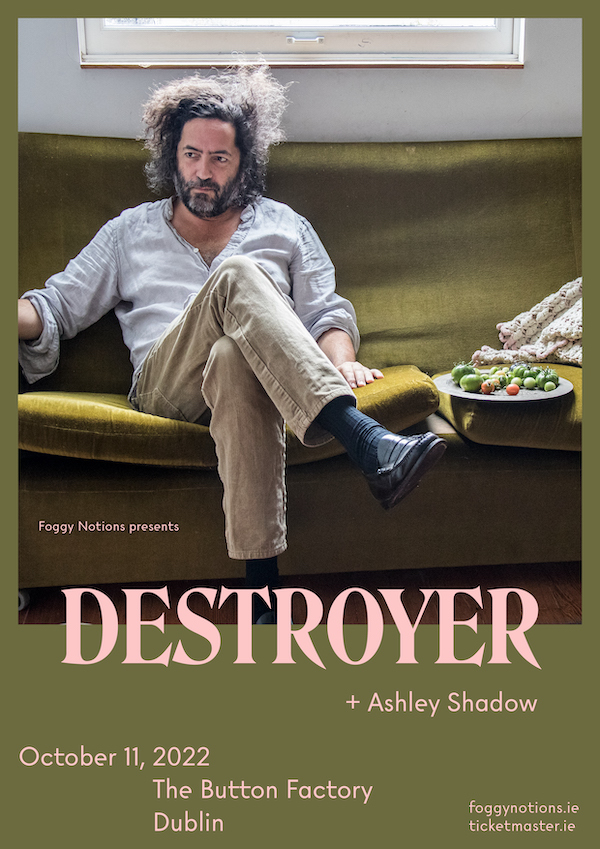 Presented by Foggy Notions
Destroyer & Ashley Shadow
The Button Factory
Oct. 11, 2022
8 p.m.
All Concerts
---
Destroyer & Ashley Shadow
Tickets on sale now.
Destroyer is pleased to announce LABYRINTHITIS, out 25th March via Bella Union and available to preorder here. Alongside this announcement, Destroyer shares the first song and video from the album, "Tintoretto, It's for You".
For the first time, Bejar himself played a big role in creating the visuals for the video ("for better or worse," he notes). "I had an idea of writing a couple lines on the idea of 'mystery' and 'going nowhere,' as they are two of my favorite themes. That and the Grim Reaper and being pursued by some silent, unnamable thing that constantly lurks one foot to the left of you. Especially as the world's decay becomes increasingly less abstract. Also wanted to write on the romance of terror. The song 'Tintoretto, It's for You' speaks to all these things, oddly enough so does the video…"
Video director David Galloway adds: "It hopefully presents some loose giallo vibes despite the fact that it clearly isn't a giallo at all. Nobody dies, nothing is explored at length, and it's ultimately a collection of neighbourhood red herrings. All leads that go nowhere. But that's the mystery. That's the mystery about music videos."
LABYRINTHITIS is a journey deep into uncharted Dan Bejar country. It brims with mystic and intoxicating terrain, the threads of Bejar's notes woven through by a trove of allusions at once eerily familiar and intimately perplexing. "Do you remember the mythic beast?" Bejar asks at the outset of "Tintoretto, It's for You," casting torchlight over the labyrinth's corridors. "Tintoretto, it's for you / The ceiling's on fire and the contract is binding."
More than an arcane puzzle for the listener, LABYRINTHITIS warps and winds through unfamiliar territory for Bejar as well. Written largely in 2020 and recorded the following spring, the album most often finds Bejar and frequent collaborator John Collins seeking the mythic artifacts buried somewhere under the dance floor, from the glitzy spiral of "It Takes a Thief" to the Books-ian collage bliss of the title track. Initial song ideas ventured forth from disco, Art of Noise, and New Order, Bejar and Collins championing the over-the-top madcapper-y.
Bejar and Collins conducted their questing in the height of isolation, Collins on the remote Galiano Island and Bejar in nearby Vancouver, sending ideas back and forth when restrictions didn't allow them to meet. Ahead of mixing, the Destroyer band was brought into the fold to further the unprepared synchronicity and mutual discovery.
Lyrically, LABYRINTHITIS embraces a widescreen maximalism, blocks of text dotted with subversions and hedges. Building from the koans of Have We Met, Bejar continues to carve his words precisely, toying with expectations and staid symbols, while Collins' production reconstructs the pieces into a unified whole.
In support of LABYRINTHITIS, the Destroyer band heads out on a tour of North America this spring. Bejar recently released a documentary of the previous tour for 2020's "Have We Met."