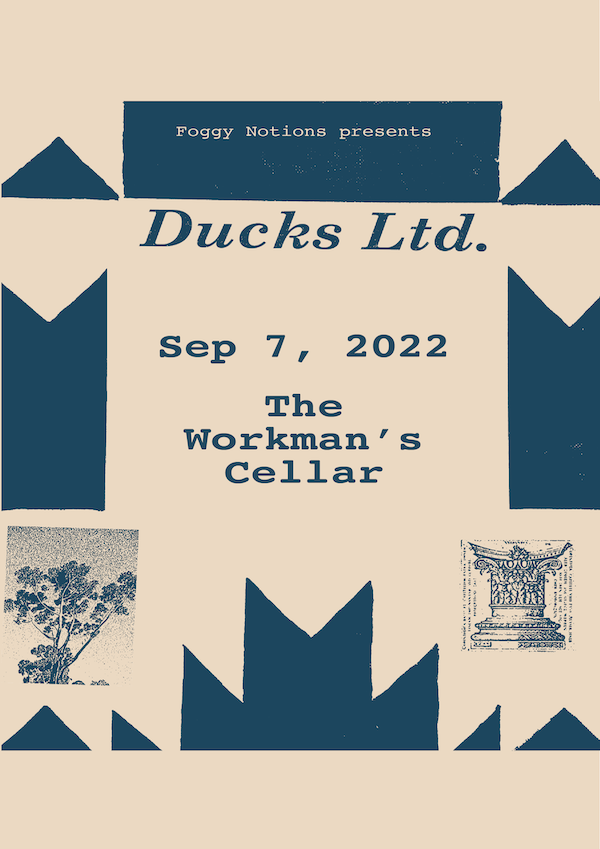 Presented by Foggy Notions
Ducks Ltd.
The Workman's Cellar
Sept. 7, 2022
8 p.m.
All Concerts
---
Ducks Ltd.
Tickets on sale Wednesday 2nd February at 10:00.
Ducks Ltd burst onto the scene with their razor-sharp lyrics and instantly memorable jangle-pop in late 2019 and have not let up since. Following the release of their critically acclaimed, and end-of-year-list lauded, debut LP, Modern Fiction, on Carpark Records in 2021 the band is back today with their latest single. On "Sheets of Grey" lead singer and guitarist, Tom McGreevy writes about one of his dearest topics; the liminal space between the inertia of depression. The ebb and flow of these feelings are evidenced in the rather monotone verses which are swept into the uptempo choruses in high register.
"Sheets of Grey" is not all bleak, though, as the band attempts to scrape together a small silver lining while the darkness is closing in. While, thematically, it was not fit for the album, "Sheets of Grey" is worthy of its own release to cement its place in the Ducks Ltd. catalog. Speaking to the track, McGreevy says; "This song is actually one of the oldest in our catalog. We wrote it around the same time as "Get Bleak," or maybe a little bit after, and played it live a bunch, but never quite finished it. We kept poking at it for a long time until we finally got it to where we wanted it to be, which happened during the Modern Fiction sessions. We ended up leaving it off the record as it didn't quite thematically fit with the other songs, but I'm excited we're finally getting to put it out as I've always liked it. It's about the inertia of depression, and how hard it can be to break out of those cycles, but also about the pleasure of embracing that state. There is a certain, temporary comfort to be found in the abyss! Somewhere right before it inevitably becomes extremely awful.
'How Lonely Are You?'...roars out of the gate like The Wedding Present with a rush of furiously strummed guitars before breaking open into dreamier pastures. - Brooklyn Vegan
It's a tense, pretty, rhythmically charged new wave track that exists on the same continuum as the C86 scene and early blog-era stars like the Strokes and Clap Your Hands Say Yeah! Tom McGreevy's high-arching chorus melody is a stunner, as is the screaming guitar melody that leads into that refrain... Lots to like about this one. - Stereogum
Modern Fiction is the one that will convince you of this band's greatness. - Austin Town Hall
'18 Cigarettes' is squarely in the duo's jangle-pop sweet spot, with hot-knife guitars and thrumming bass acting as its revving engine, and Eliza Neimi playing cello over its soaring choruses. - Paste Magazine
like the Chills mixed with the Feelies mixed with the Wedding Present mixed with the Bats...in a year like this a little private comfort went a long way - Rolling Stone
Modern Fiction is a standout slice of upbeat rock...Ducks Ltd. capture a certain authenticity that feels like it was unearthed from a time capsule buried in 1980s New Zealand. - Flood
Channeling the vibrant sounds of bands like Felt and The Go-Betweens, Modern Fiction is an ideal 30 minutes spent in an uplifting soundscape, a warm rejoinder to the oncoming winter. - Aquarium Drunkard
An attention-grabbing blast of jangly guitar jubilance. - PopMatters