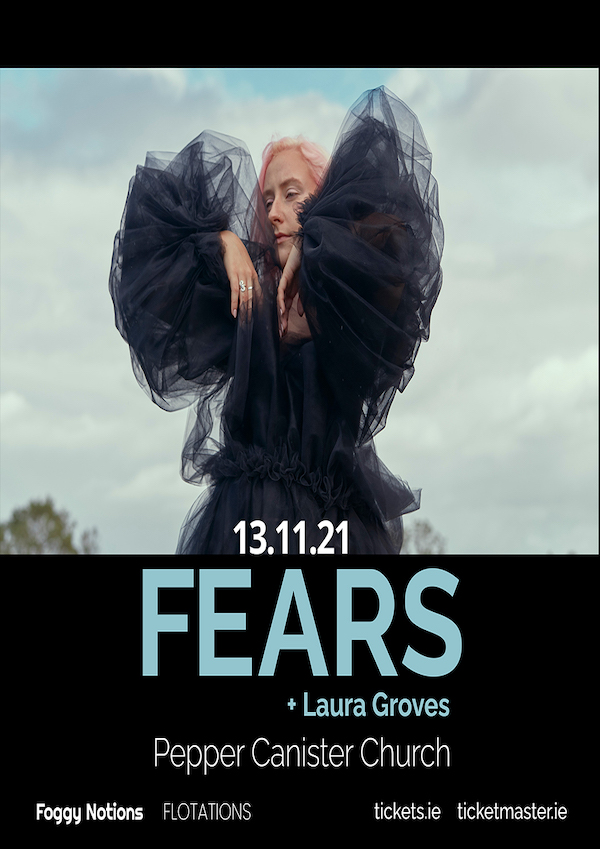 Presented by Foggy Notions
Fears & special guest Laura Groves
Flotations Series @ The Pepper Canister Church
Nov. 13, 2021
8 p.m.
Additional Ticket Link
Tickets
All Concerts
---
Fears & special guest Laura Groves
Foggy Notions presents Flotations – a new live performance experience for ambient, minimalist, instrumental, soundtrack, abstract and experimental composers.
Flotations is a new concept for Dublin taking cues from global counterparts such as Unsound (PL), Café Oto (UK), and Dark Mofo (AUS). The performances will take place in listening conducive settings to maximise an immersive listening experience. A stimulation of senses and an invitation to drift with time & sound.
Our first Flotations event will feature Fears and special guest Laura Groves.
Fears is Irish artist, musician and producer Constance Keane. Combining reflective electronics, acoustic samples, and haunting vocals with organic visuals. Fears invites the listener on an ethereal journey, blurring the boundaries between music and visual art. Her minimalist approach centres on emotive subjects, which are all-at-once deeply personal yet remarkably universal.
Oíche, meaning 'night' in Irish, was recorded and produced in three bedrooms, hospital, and most recently in the Domino Recordings studio in Brixton. Pieced together over five years, Oíche chronicles growth through challenges, instability, and relationship changes, both with one's self and others. The album reveals itself much like a coming of age novel about the breaking apart of girlhood and rebuilding of a young woman. An intimate depiction of discovery, Oíche unearths internal dialogue, and makes peace with uncertainty.
Oíche is the first full length release on TULLE, a new women-led independent record label focused on working with and for underrepresented voices in music.
"The insistent, under-wrought melodies start to get stuck in your head, and the human warmth underlying it all starts to seep through" - The Guardian Readers' Top Albums of 2021
"Emotionally stirring, musically diverse and breathtakingly honest, 'Oíche' is a reflection on all that's come and gone in the life of one of Ireland's great creatives." - CLASH Magazine's Top Albums of 2021
"It makes for a raw, almost unnerving first listen [...] yet stick with Oíche and her hypnotic beats and haunting vocals draw you into the darkness, particularly on the wonderfully layered singles tonnta and Fabric." - The Sunday Times
"There is a chilling poise to the way Fears shares these stories [...] and it's a joy to think where it will go next." - The Quietus
"She has released the single 'two_' with topnotch remixes and now rounds off this year with the edition of 'tonnta'. The song and video have already sparked worldwide interest, played on KCRW and NTS" - DJ Mag Spain