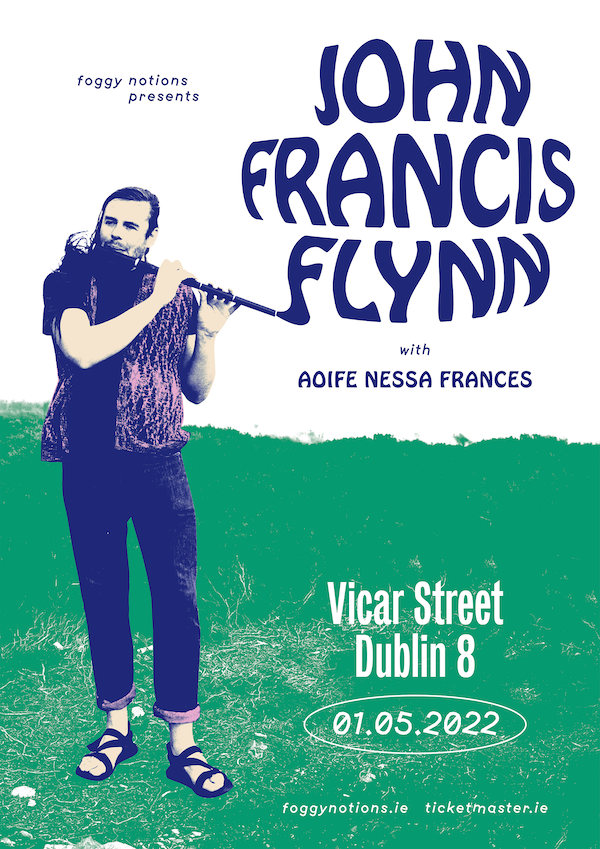 Presented by Foggy Notions
John Francis Flynn & Aoife Nessa Frances
Vicar Street
May 1, 2022
8 p.m.
All Concerts
---
John Francis Flynn & Aoife Nessa Frances
Fresh from a sold out show at Whelan's on Friday 12th November and winning Best Emerging Folk Artist & Best Folk Singer at last night's RTÉ Radio One Folk Awards; John Francis Flynn will perform at Vicar Street Dublin on 1st May 2022 with Special Guest Aoife Nessa Frances. Tickets go on sale Friday 19th November at 10:00.
John Francis Flynn is a singer and multi-instrumentalist whose work centres around traditional and folk material from Ireland. He is a founding member of the band, Skipper's Alley, with whom he has toured extensively throughout Europe and America.While supporting Lankum on their 2019 UK tour he caught the eye of Geoff Travis and Jeannette Lee who quickly signed John to Rough Trade imprint label, River Lea. River Lea released John's debut album "I Would Not Live Always" in Spring 2021. Produced by highly regarded producer, Brendan Jenkinson, this release looks to continue where River Lea last left off; highlighting the enormous talent hidden away in the corners of Ireland's folk scene.
"Human experience burns ferociously on this extraordinary debut from the uncompromising Irish artist John Francis Flynn. An extraordinary debut" The Guardian
"Double Tin Whistle and Tape-Loops. Revelatory new takes on English and Irish folk songs in the manner of Sam Amidon. A singular and striking clarity of vision" Uncut Magazine
No. 5 Folk Album of the Year Mojo