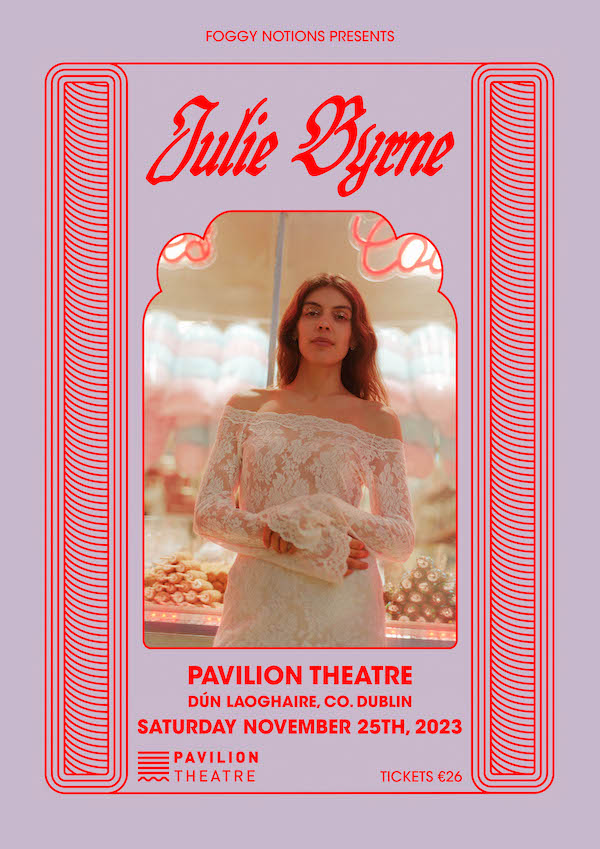 Presented by Foggy Notions
Julie Byrne
Pavilion Theatre, Dún Laoghaire
Nov. 25, 2023
8 p.m.
All Concerts
---
Julie Byrne
Tickets on sale now.
American songwriter Julie Byrne announces The Greater Wings, her first record in over six years and her debut with Ghostly International, with a video for lead single "Summer Glass." A self-taught musician and characteristically private artist that has committed her life to her work, Byrne now emerges from a deeply trying and generative period with the most powerful, lustrous, and life-affirming music of her career.
"My hope for The Greater Wings is that it lives as a love letter to my chosen family and as an expression of the depth of my commitment to our shared future," Byrne explains. "Being reshaped by grief also has me more aware of what death does not take from me. I commit that to heart, to words, to sound. Music is not bound to any kind of linear time, so in the capacity to record and speak to the future: this is what it felt like to me, when we were simultaneous, alive, occurring all at once. What it has felt like to go up against my edge and push, the love that has made it worth all this fight. These memories are my values, they belong with me."
The Greater Wings was written across several seasons, pulling imagery from nights on tour, periods of isolation, and the drives cross-country for its various collaborations between Chicago, New York, and Los Angeles. Recording started with the late Eric Littmann (Phantom Posse, Steve Sobs), her longtime creative partner and Not Even Happiness producer, and finished in the Catskills of New York with producer Alex Somers (Sigur Rós, Julianna Barwick).
While they hold the plasticity of loss, the songs are universally resonant, unbridled in their devotion and joy. Byrne leans further into atmospheres both expansive and intimate; the lush, evocative songcraft flows between her signature fingerpicked guitar, synthesizer, and a newly adopted piano, made wider by flourishes of harp and strings. It is the transcendent sound of resource, of friendship that was never without romance, of loyalty that burns from within like a heart on fire, and the life force summoned in unrepeatable moments — raw, gorgeous, and wild.
At the heart of the record is "Summer Glass," a luminous, euphoric synth ballad tracing themes of intimacy, memorial, and deeply personal alliance. The song ignites all at once with Littmann's arpeggiated synth as they approach the zenith of their creative partnership; Byrne's voice casts the spell, "I can't say if it was devotion. I just wanted to feel the sun on my skin." The opening lyrics find her at the water's edge. Transfixing and radiant, Marilu Donovan's harp joins the pulse of the synthesizer in a tidal, interlocking cascade — a synergy that embodies years of collaboration. "Summer Glass" opens wide to encompass a universe of references, turning candid moments of laughter, desire, failure, perseverance, inertia, and emergence into legacy. Jake Falby's strings offer a sweeping, incandescent bridge, a step more urgent at the album's apex, before Byrne returns with a final invocation:
"One day the skin that holds me will be dust and I'll be ready to travel again For now I want to go further in, Into moment, into vision, into you I swore I'd show myself so I could renew That's not the same as being new forever The shape of your hand left in the dust of Summer Glass I want to be whole enough to risk again."