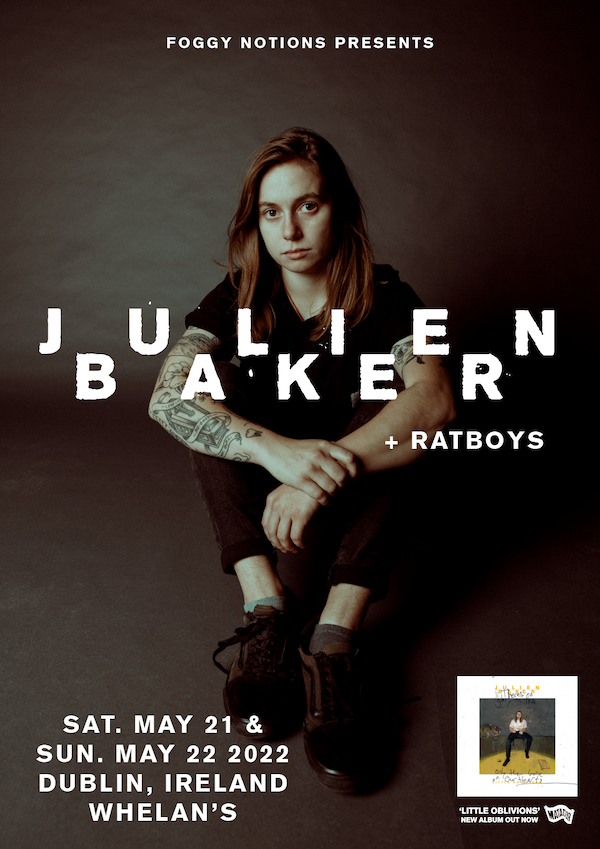 Presented by Foggy Notions
Julien Baker & Ratboys
Whelan's
May 21, 2022 & May 22, 2022
8 p.m.
All Concerts
---
Julien Baker & Ratboys
We are delighted to announce two intimate shows by Julien Baker to mark the release of her powerful new album, Little Oblivions.
"Weaves together unflinching autobiography with assimilated experience and hard-won observations from the past few years, Julien Baker's capacity for storytelling has reached new heights. Her new album Little Oblivions also marks a sonic shift, with the songwriter's intimate piano and guitar arrangements newly enriched by bass, drums, keyboards, banjo, and mandolin. With ['Little Oblivions'] she scales her music up to larger spaces, backed by a full rock band with ringing guitars and forceful drums. But she doesn't hide behind them; she's still ruthless and unsparing, particularly about herself." NEW YORK TIMES
"Unruly, complex, and gorgeous." THE NEW YORKER
The Observer **** "Where her previous records tiptoed, Little Oblivions stomps on effects pedals. Album opener Hardline builds up into a breaker of pent-up instrumentation for Baker's voice to surf."
Uncut 8/10 "Everything on Little Oblivions will make you feel, and it's the catharsis we all need."