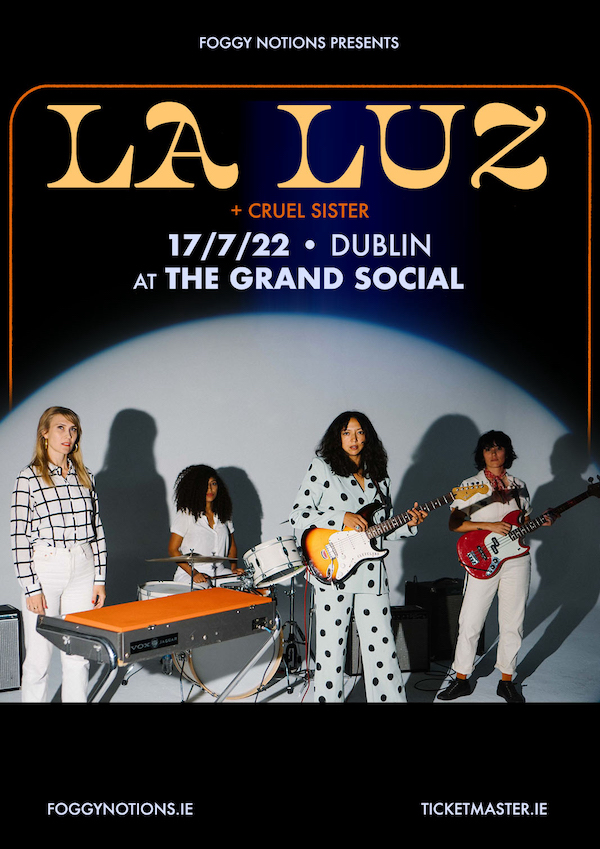 Presented by Foggy Notions
La Luz & Cruel Sister
The Grand Social
July 17, 2022
8 p.m.
All Concerts
---
La Luz & Cruel Sister
Tickets on sale Wednesday 18th May at 10:00.
La Luz has always been a band with a vision. Their discography is a study in balancing both heavenly and haunting sounds for a lush style of rock music that's all their own. On their self-titled fourth album, La Luz fearlessly launch themselves into a new realm of emotional intimacy with a collection of songs steeped in the mysteries of the natural world and the magic of human chemistry that has found manifestation in the musical ESP between guitarist and songwriter Shana Cleveland, bassist Lena Simon, and keyboardist Alice Sandahl.
It's there in the album's name, the choice to self-title a testament to the bond between the trio. "I don't think I could bring an album this intimate to a band that I didn't feel that closeness with," Cleveland says of La Luz, which contains some of the most personal songs she's ever written. "We have a musical understanding that's very intimate."
To help shape La Luz, the band found a kindred spirit in producer Adrian Younge. Primarily known for working with hip-hop, soul, and jazz acts, Younge saw in La Luz a musical kinship that transcended genre. "We both create music with the same attitude, and that's what I love about them," he says. "They are never afraid to be risky and their style is captivating. I don't work with many bands, but I love taking chances on people that share the same vision. We both love to be ourselves, and it was an honor to work with them."