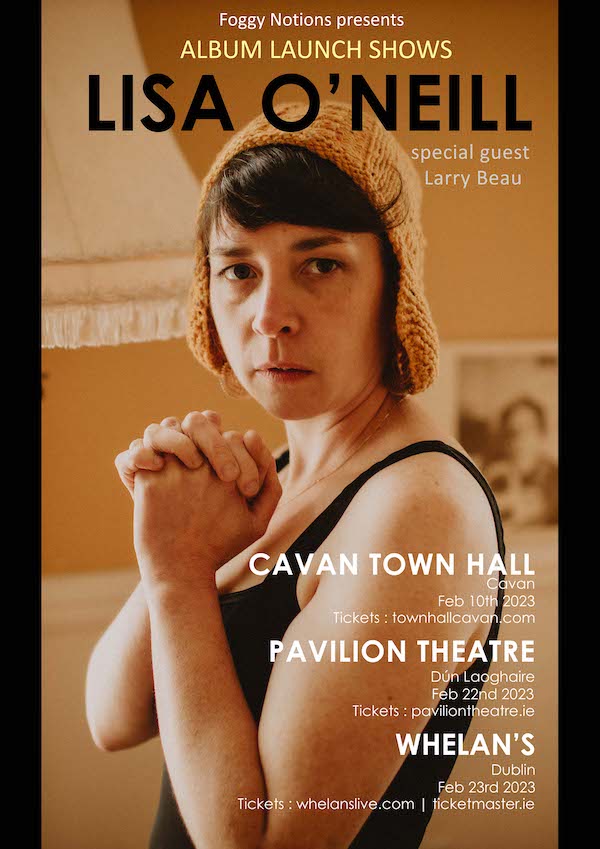 Presented by Foggy Notions
Lisa O'Neill & Larry Beau
Whelan's
Feb. 23, 2023
8 p.m.
Additional Ticket Link
Tickets
All Concerts
---
Lisa O'Neill & Larry Beau
SOLD OUT
Lisa O'Neill Announces New Album 'All Of This Is Chance' Out Feb 10th, 2023 on Rough Trade Records.
"Uncompromising, stunning, soul-shaking stuff." – The Guardian, Folk Album of the Year
"It matters little how people get to hear Lisa O'Neill's music; any path to increased exposure for an artist like this makes the world a better place… With a voice emitting the power of Eliza Carthy, the conviction of a June Tabor and original songs that instantly sound so right, she is among the best things to be found performing in the folk world today." Danny Neill, FRUK
Following five BBC Folk Awards nominations and a Folk Album of the Year accolade in The Guardian in 2019 for her recent album 'Heard a Long Gone Song,' 'The Wren' EP in 2019, and an adaptation of Bob Dylan's 'All the Tired Horses' for the final scene of epic TV drama Peaky Blinders, Lisa O'Neill, one of the most evocative songwriters in contemporary Irish music today, returns with this new album, and her first for the Rough Trade label, the beautiful, resonant 'All Of This Is Chance', to be released on 10th February.
Lisa O'Neill has also announced a UK tour for Spring 2023, including a show at The Barbican in London on March 23rd and two intimate shows at Whelan's and The Pavilion Theatre in Dún Laoghaire.
"Vertiginous, violet-they scroll across the sky, words with wings VVV, whether wrens or angels one cannot determine, perhaps an alternate universe fusion of both, up down, high, low-dizzy, still; at peace, at war: redemption dreams arise from the clay: soul's peace, as the bird in the bough its little eye closes slowly: all is chance, they say, indeed, save this, indisputably, O' Neill's Art's gentle triumph." - Pat McCabe
"At a time when sameness threatens to drain the world of charm and surprise, Lisa O'Neill stands tall for difference, as an outlier with a mission to frame the world as she sees it and to perform it accordingly. Her voice is her own. No small achievement." - The Irish Times
"About as far from safe as it's possible to get. A special talent indeed." 9/10 – Hot Press