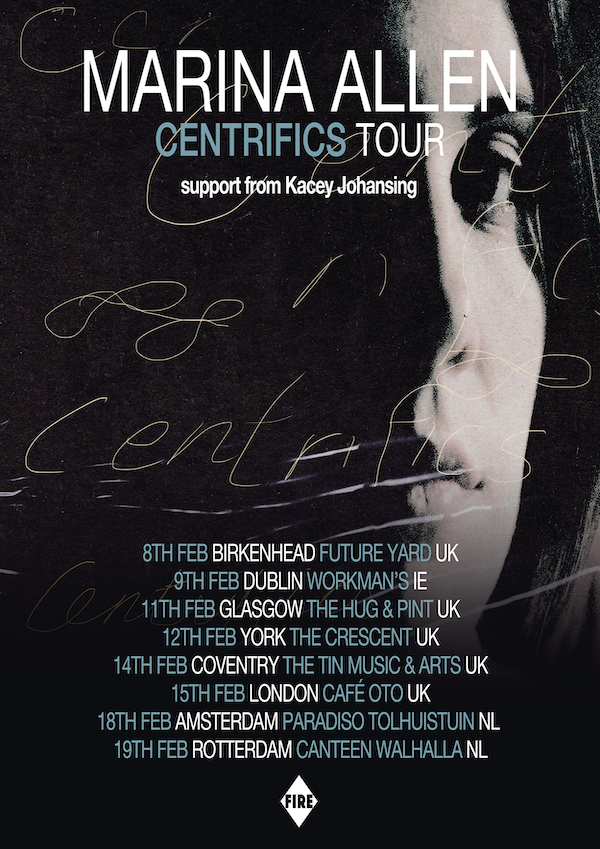 Presented by Foggy Notions
Marina Allen
The Workman's Cellar
Feb. 9, 2023
8 p.m.
All Concerts
---
Marina Allen
Foggy Notions presents the Irish debut of Marina Allen. Tickets on sale Friday 2nd December at 10:00.
Marina Allen is a once-in-a-decade five-tool musician: She writes beautiful melodies and brilliant lyrics, expresses her ideas with an unusual voice of extraordinary depth and range, thinks in fanciful arrangements, and constantly navigates the knife-edge between too much and too little. Allen's fully formed and astonishingly confident debut, 'Candlepower' is a suite of seven songs that was released on Fire Records to critical acclaim.
A rare and super talented newcomer, Marina embarked on her first UK tour last year and across the US has been touring with Waxahatchee, Chris Cohen, Billie Marten, Mega Bog, and Bedouine along with some special performances at this year's SXSW festival in Austin.
Based in Los Angeles, Allen is difficult to categorize, drawing from influences as varied as Joanna Newsom, the Beach Boys, loft jazz, Meredith Monk and the New York avant-garde, Joni Mitchell, Karen Carpenter, Karen Dalton and Fiona Apple.  Her music is intricate, fierce, soulful, mesmerizing, warm and bold.
"I went into writing Centrifics knowing I wanted to give myself permission. I was fed up with hiding myself and a fierceness started to enter the songs, which I leaned into. The entire time I was writing, I just kept saying "yes", that was my only rule. In a way, these songs became a bridge for me to get to the other side and so Centrifics became aspirational. I threw the stone into the ocean as far as I could and then figured out how to swim to it. Instead of trying to get it perfect, the album works as a ladder to confront and hoist myself over all the hurdles, walls, setbacks and suffering. In that way imagination became a tool I desperately clung to rather than a place to recede." 
Her newest masterpiece, 'Centrifics', was released in September 2022.