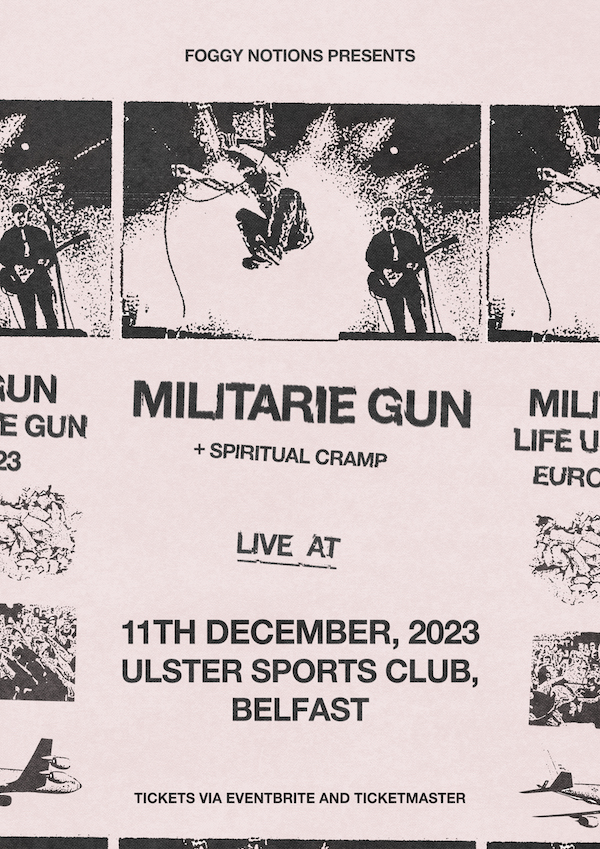 Presented by Foggy Notions
Militarie Gun & Spiritual Cramp
Ulster Sports Club, Belfast
Dec. 11, 2023
7 p.m.
Additional Ticket Link
Tickets
All Concerts
---
Militarie Gun & Spiritual Cramp
Tickets on sale now for Militaire Gun's Belfast Debut.
DEBUT ALBUM "LIFE UNDER THE GUN" OUT NOW ON LOMA VISTA RECORDINGS.
"By refusing to be boxed in, Militarie Gun have broken free and broken out. The results are nothing short of astonishing." ***** - UPSET
"A powerful, memorable collection... the standout band of the current hardcore punk scene." **** - NME
"A potent balancing act of grit, vulnerability and melody." **** - DIY
"Stunning, genre-defying debut." - KKKK - Kerrang!
"Subverting the expectations of hardcore like Fucked Up and Touche Amore before them, though sonically an outlier, Militarie Gun are something harder for the indie kid and an opportunity for the hardcore set to come up for air." - The Line Of Best Fit
"It's shaping up to be a definitive statement from the group." - CLASH
Los Angeles' Militarie Gun today announce a headline tour of both the UK and EU for later this year, their first full set of European dates following the release of their critically acclaimed debut album Life Under The Gun earlier in the summer via Loma Vista Recordings.
Life Under The Gun's 12 tracks - including previously shared singles "Do It Faster," "Very High," and "Will Logic" along with a new version of their 2022 track "Big Disappointment" - take all of the best part of Militarie Gun's earlier work and amp them up to the highest possible degree.
"Life Under The Gun" is available now on limited edition vinyl, CD, and cassette HERE
"Life Under The Gun" is almost impossible to describe without bouncing between contradictions. Is it abnormally aggressive pop music or is it unusually catchy hardcore? Is it deeply intellectual or is it satisfyingly primal? Is it a vulnerable attempt to unpack lifelong cycles of hurt, or is it a collection of world-beating, absurdist punk anthems? In the end, the answer is obvious: it is all of it. It is Militarie Gun.
Since forming in 2020, the group have been releasing music and touring at a startling rate, and while Life Under The Gun feels like a culmination of this recent hard-earned momentum, the record is inextricably linked to Shelton's past. "I grew up in a household with family members struggling with addiction," he explains. "It was an oppressive force. We were always wondering, 'Is it going to be a good day or a bad day? Are the cops going to come today? What am I going to come home to after school?'" The challenges of his homelife were only exacerbated by living in Enumclaw, WA, a sparsely populated rural suburb where Shelton spent his formative years longing for a way out. In this difficult and stifling environment, the roots of Life Under The Gun began to grow. As he began to pick up instruments, play in bands, and write his own songs, music quickly became a vital outlet for self-expression, but Shelton couldn't shake the idea that it was also a literal escape route.
What followed was a flurry of activity that still hasn't let up. After relocating to Los Angeles and forced to stay put during the 2020 lockdown, Shelton's restless creative drive took over and he spontaneously wrote the first songs that became Militarie Gun. The sound was decidedly new for him: firmly rooted in punk and hardcore but more hook-driven, pulling from influences like Guided By Voices, Fugazi and The Jesus Lizard. Shelton quickly recorded Militarie Gun's 2020 debut EP, My Life Is Over, by himself, then rounded out the lineup with guitarists Nick Cogan and William Acuña, and drummer Vince Nguyen (Max Epstein played bass on Life Under The Gun). 2021 saw the release of the dual All Roads Lead To The Gun EPs and the start of a seemingly endless run of tour dates. In 2022, Militarie Gun teamed up with Dazy for the critically-acclaimed collaborative single "Pressure Cooker," which was soon followed by the band signing to Loma Vista Recordings and releasing a deluxe edition of the All Roads Lead To The Gun EPs that included even more new material.
Militarie Gun soon had the makings of Life Under The Gun: the kind of debut album that feels like a true arrival, one forged by a lifetime of experience and effort that's now allowed an artist to fully come into their own. Engineered by Taylor Young at The Pit Recording Studio, the album's 12 tracks take all of the best parts of Militarie Gun's earlier work and amps them up to the highest possible degree. It sounds massive without sacrificing the punk spark–full of driving drums, distorted bass lines, and of course Shelton's instantly recognizable roar–only this time everything is bigger and even catchier. "This is what I thought we sounded like all along," Shelton laughs. "It's always felt like a melody-forward band to me, but I think now we're finally achieving what I was always setting out to do."