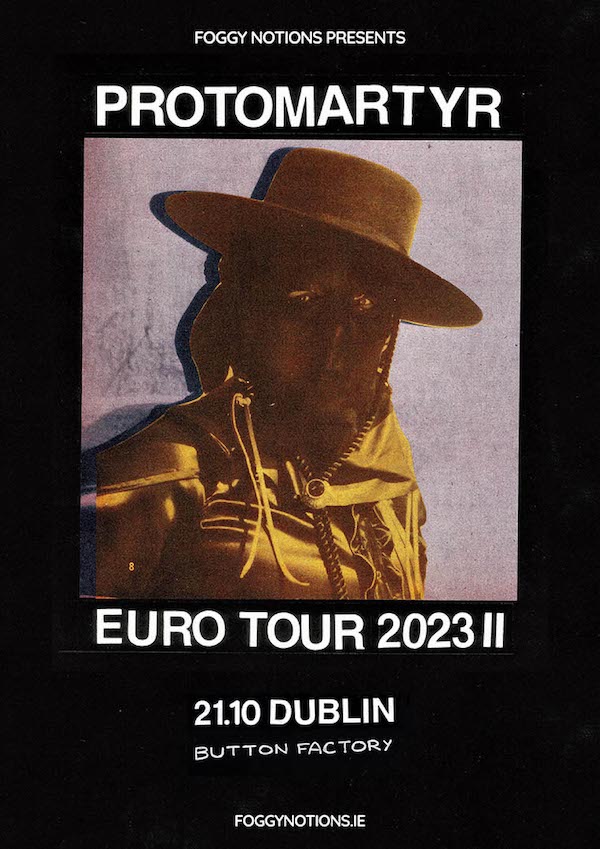 Presented by Foggy Notions
Protomartyr
The Button Factory
Oct. 21, 2023
8 p.m.
All Concerts
---
Protomartyr
Tickets on sale Friday 28th April at 10:00.
Protomartyr — the Detroit post-punk band composed of Joe Casey (vocals), Greg Ahee (guitar), Alex Leonard (percussion), and Scott Davidson (bass) — "are sounding as vital as ever" (Stereogum). Today, the quartet presents their new single/video, "Elimination Dances," from their anticipated forthcoming album, Formal Growth In The Desert, out June 2nd on Domino. Post-quarantine, Casey and his bandmates regrouped with a sense of uncertainty, questioning if and how to continue after the turbulence of the pandemic years. They found themselves using that ambivalence to hone a song they named after a chapter from a 1950's teen dance manual. "Elimination Dances" refers to a game where "you get tapped out when you lose the dance," and that felt an apt metaphor for just surviving. Life is a struggle, but "you might as well keep dancing until the tap comes," Casey says.
Following lead single "Make Way," "a tense waltz that explodes into a boisterous anthem" (The FADER), "Elimination Dances" is presented alongside a video directed by Yoonha Park, and features dancer Kota Yamazaki. "My dad once told me 'Life is like a roll of toilet paper. The closer it gets to the end the faster it goes,'" explains Park. "That idea along with the lyrics led to the idea of a choreographic pattern that repeats as it grows outward in an expanding spiral. The choreography repeats with each cycle but has to be danced faster and faster to keep pace with the 'pale youth' until eventually devolving into chaos. I recently learned that the toilet paper quote was actually by Andy Rooney."
Protomartyr's sixth album, Formal Growth In The Desert, was recorded at Sonic Ranch in Tornillo, Texas. And though frontman Joe Casey did have a humbling experience staring at awe-inspiring Sonoran rock formations and reckoning with his own smallness in the scheme of things — as recounted in today's "Elimination Dances" — the album's title is not necessarily a nod to the sandy expanses of the southwest. Detroit, too, is like a desert. "The desert is more of a metaphor or symbol," Casey says, "of emotional deserts, or a place or time that seems to lack life." The desert brings an existential awareness that is ultimately internal.
The "growth" came from a period of colossal transition for Casey, including the death of his mother, who struggled with Alzheimer's for a decade and a half. Now 45, Casey had lived in the family home in northwest Detroit all his life. In 2021, though, a rash of repeated break-ins signaled that it was time to finally move out. Protomartyr's music — more spacious and dynamic than ever — helped pull Casey up. "The band still being viable was very important to me," Casey adds, "and it definitely lifted my spirits."
Having long served as Protomartyr's unofficial musical director, guitarist Greg Ahee co-produced Formal Growth In The Desert alongside Jake Aron (Snail Mail, L'Rain). Ahee knew what Casey was going through and the challenges he'd been processing, and as Ahee was conceptualizing the music, he thought about how to make it all "like a narrative film." The filmic sensibility is manifest in Casey's storytelling, too, whether he's critiquing ominous techno-capitalism or processing aging, the future, and the possibility of love.
Protomartyr have become synonymous with caustic, impressionistic assemblages of politics and poetry, the literal and oblique. Casey describes the underlying theme of Formal Growth In The Desert as a 12-song testament to "getting on with life," even when it feels impossibly hard.