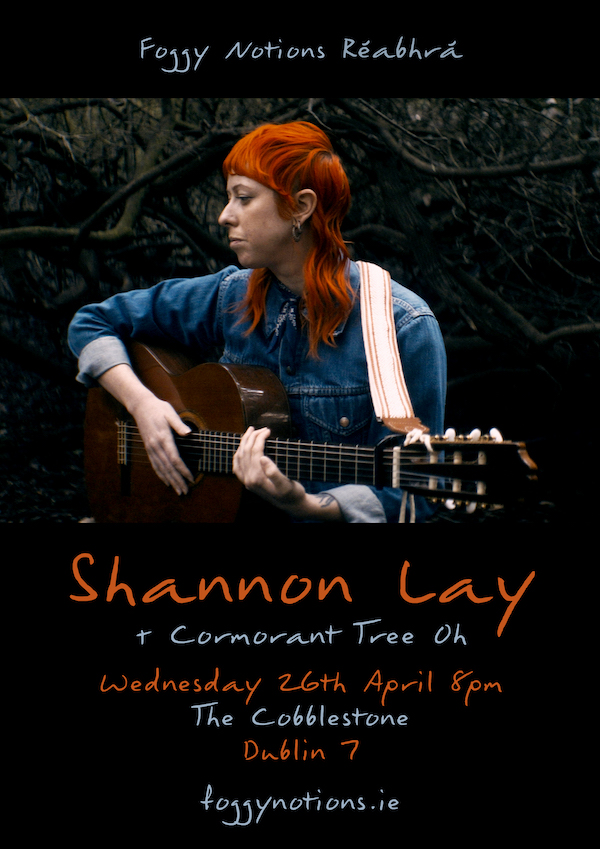 Presented by Foggy Notions
Shannon Lay & Cormorant Tree Oh
The Cobblestone Dublin 7
April 26, 2023
8 p.m.
All Concerts
---
Shannon Lay & Cormorant Tree Oh
Tickets on sale now.
Foggy Notions presents Réamhrá a new series for emerging songwriters, alternative folk music and diverse voices. The series will run throughout 2023 at The Cobblestone Dublin regarded as the beating heart of Dublin's contemporary and vital traditional music scene. The first show in the series will be by Sub Pop Records Shannon Lay.
On April 14th, 2023, Shannon Lay will release the nine-song Covers Vol. 1 worldwide on all DSPs through Sub Pop. Following the release of Lay's version of "Angeles," by Elliott Smith, comes her beguiling cover of famed Nick Drake song, "From The Morning." Lay shares about the song: "When I decided to do a covers record, I knew I had to pay tribute to Nick Drake. Pink Moon is one of those records I never get tired of listening to. I chose two songs from it, "From the Morning" and "Horn." The combo felt really nice, and doing a little John Fahey treatment on "Horn" ended up bringing it into this lovely realm of goodness. Nick Drake left this earth far too soon, but he lives on in his amazing songs. I hope somewhere, somehow, he knows how influential he is. Anytime, any mood, Nick Drake always hits just right. "