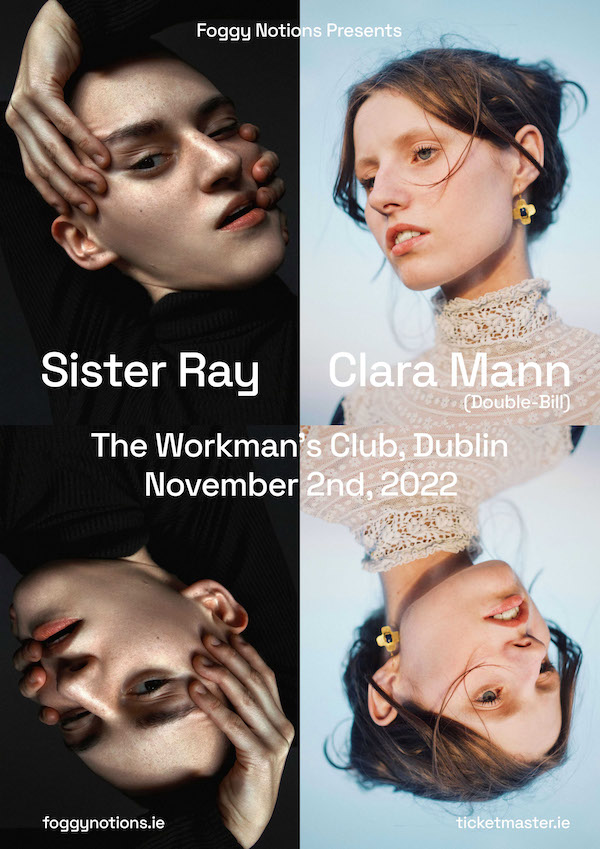 Presented by Foggy Notions
Sister Ray & Clara Mann
The Workman's Club
Nov. 2, 2022
8 p.m.
All Concerts
---
Sister Ray & Clara Mann
Foggy Notions presents an exciting double-bill of two emerging young artists, Sister Ray and Clara Mann.
Sister Ray, the project of Edmonton-born Métis songwriter Ella Coyes, was conceived out of necessity; a self-designed vehicle built to examine trauma with unflinching honesty. Sister Ray's music is steeped in a wide range of cultural influences. With gospel bluegrass and 90's country playing in the background of their youth, it was the traditional Métis music played at home that not only brought them closer to their heritage, but taught them a form of storytelling rooted in collective value, resilience, and safety. The result is an unyielding, spacious, and commanding form of indie rock, rooted in the folk tradition, that transforms unvarnished, interior reflections into a generous public offering.
Clara Mann makes almost-folk to keep calm in a busy world. The 19-year old newcomer made her striking debut in February this year with 'Consolations' (Sad Club Records) - an EP tipped on release for its wise-beyond-years approach, intimate production and distinctive, self-assured vocals. Preceded with tender first single 'I Didn't Know You Were Leaving Today' and clear-cut follow-up track 'Thoughtless', the four-song collection observes her first meetings with adulthood; befriending vulnerability, protecting malleable boundaries, and the fragility of self that runs parallel with personal growth. A keen painter, visual storytelling is embedded into Clara's music, and during its incubation she found herself drawn further into the work of Edward Hopper; "maybe today I was the hunched figure from 'Nighthawks', tomorrow, the woman in the empty bedroom of 'Morning Sun'. The pictures bled into the songs - the movie-still feeling, the muted colours."