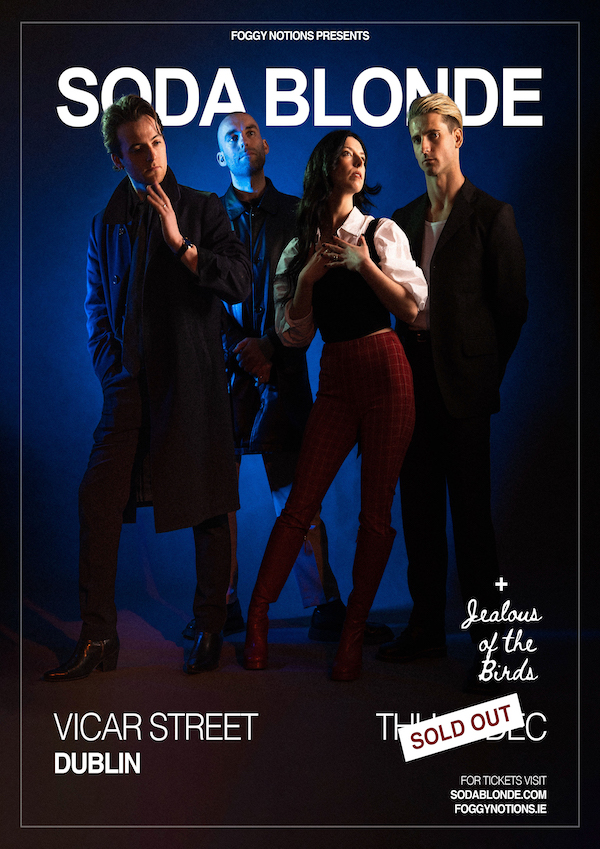 Presented by Foggy Notions
Soda Blonde & Jealous of the Birds
Vicar Street
Dec. 14, 2023
7:30 p.m.
All Concerts
---
Soda Blonde & Jealous of the Birds
SOLD OUT.
Soda Blonde announce new album to be released Sep 8th, December tour dates, and lead single "Bad Machine", out 14th July.
"Dream Big", the second studio album from Irish band Soda Blonde, is far more than a collection of catchy and cathartic pop songs; it's a mantra – a mission statement from four lifelong friends. It's their promise to themselves, and a message to all who come along for the ride: A reminder that life is precious, fragile, and fleeting, so we might as well dream big and hold nothing back. Epic in size and intimate in scope, "Dream Big" holds a microscope in one hand and a mirror in the other as our innermost thoughts and feelings get a soundtrack of their very own.
Following two successful introductory EPs (2019's "Terrible Hands" and 2020's "Isolation Content"), they released their debut album, "Small Talk", in 2021. The LP was subsequently nominated for RTÉ's Choice Music Prize for Album of the Year and received rave reviews from Paste Magazine, Atwood Magazine, and The Irish Times, who called it "a record so articulate and expressive that its title has to be a wry in-joke."
The band have grown tremendously in the two years since their debut, and it shows. Whereas "Small Talk" was an anxiety-fueled coming-of-age record about navigating their twenties, "Dream Big" is a mature awakening to the world at large; one that dives deeper and hits harder than its predecessor. The record's angular and broad-shouldered lead single "Bad Machine" leans into self-acceptance, but it does not do so unilaterally. "We can be slaves to our own impulses," says guitarist Adam O'Regan of the turbulent, sonically charged song. "This idea that 'every part of me is a bad machine breaking everything all the time, every part of me has been wired to repeat, I've got a bad desire by design,' it's this idea of recognizing that this is just a part of who you are and going with that; but it's a double-edged sword. Sometimes taking a chance, being spontaneous and taking a risk - they're not always the safest moves to make, but that propensity to dare is what makes us great. We wouldn't exist without it."