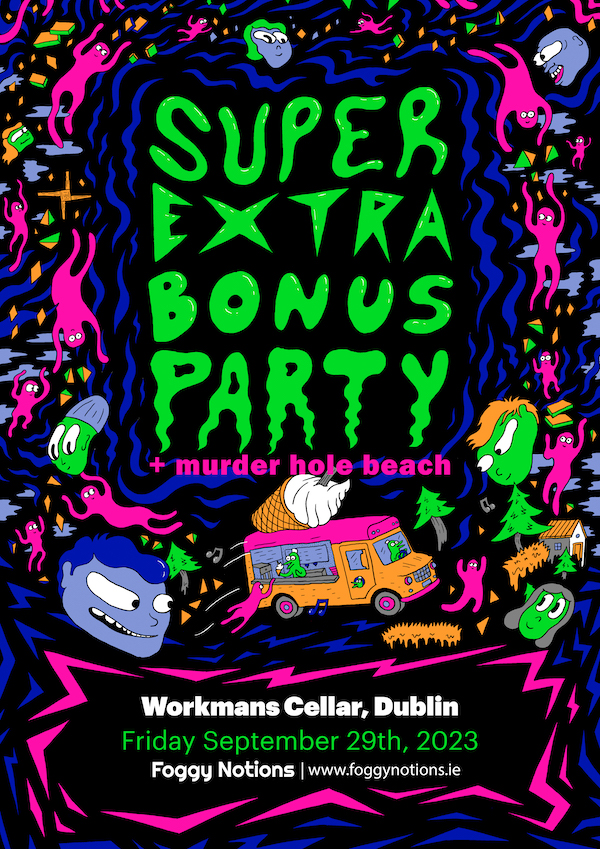 Presented by Foggy Notions
Super Extra Bonus Party & murder hole beach
The Workman's Cellar
Sept. 29, 2023
8 p.m.
All Concerts
---
Super Extra Bonus Party & murder hole beach
Tickets on sale now.
Super Extra Bonus Party return with The Corpse, the first track to be released from forthcoming album Late Nite 99 due for release on 29 September 2023.
Unconcerned with current trends and sounding like a lost cut of 70s psychedelia, the track wears its eccentricity on its sleeve and sees SEBP pull their eclecticism in surprising new directions. Gary Clarke's marching band drumbeat drives the song forward with Stephen Fahey making his lead vocal debut - a taste of what's to come on Late Nite 99, with Gavin Elsted of the band and some soon to be revealed guests also stepping up to the mic on the new record.
About The Corpse, Stephen Fahey says "the track is about stuff that affects all of us at some point I think: burnout, making promises you can't follow through on, frustration with yourself as a result, trying to get other people to change to suit you as opposed to taking the responsibility on yourself - trying to give as much as possible but not in a conscious way."
Recorded over two weekends in late 2022 in The Meadow, Delgany with Rian Trench, Late Nite 99 is the sound of a more cohesive, thoughtful band, neatly skipping between cinematic faux-westerns, technicolour psychedelia and delicate electronica.
"I wouldn't say that it's our 'grown-up record' by any stretch, but maybe it's being comfortable enough with each other to really refine our ideas that gives this a bit more of a focus" says guitarist Gavin Elsted, reflecting on the process behind the finished product. "I think a longer gestation period really helped us figure out what we didn't want the album to be and gave us the space to write in a way that would allow the album to present itself instead of trying to force things together."
While this newfound sense of comfort might extend to things behind the scenes, it hasn't stopped the band trying to be playful wherever they can. From the amazing neon nightmare cover art by Jorge Parras to the title of the record (named after a sighting of one of the band's parents emerging from the Heuston Supermacs with a post-work ice cream) there's still a lot of mischief to be found in Super Extra Bonus Party.
"I think that what's happened with this album is that we've learned a lot as musicians over the years, but the dynamic between us has remained the same" Cormac Brady expands. "I think when we set out to make the album, we had a vision that the album would feel a little bit more cohesive and a little less chaotic. But the reality is that we've poured all of our new abilities into the exact same mould. No matter how much each of us progress at what we do musically, the way we create together remains unpredictable. That's what makes it enjoyable and maybe why we're still doing this after so long!"
The Corpse is released on May 24 2023 Late Nite 99 is released on September 29 2023