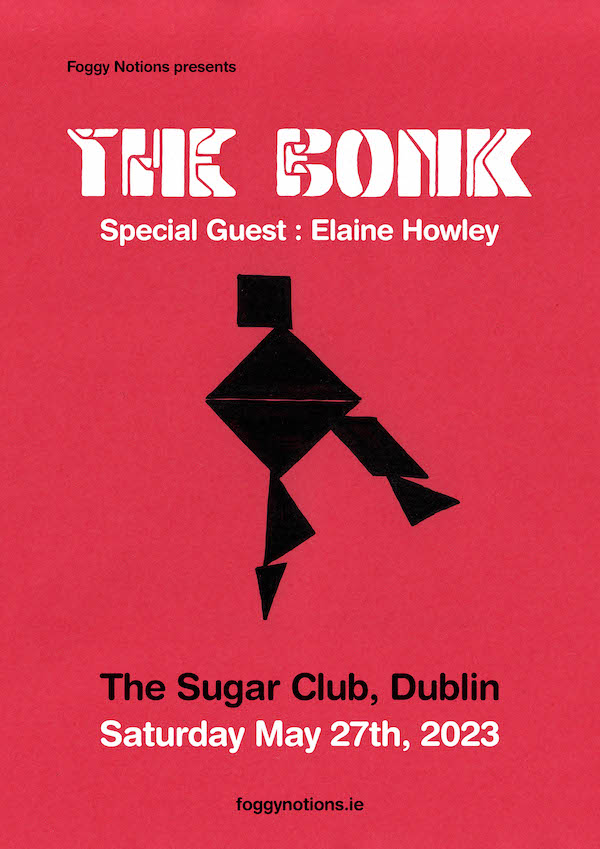 Presented by Foggy Notions
The Bonk & Elaine Howley
The Sugar Club
May 27, 2023
8 p.m.
All Concerts
---
The Bonk & Elaine Howley
Special guest Elaine Howley. Tickets on sale now.
The Bonk is a project exploring the compositions of songwriter and improviser, Phil Christie.
Taking elliptical rhythms and repetitive ritualistic wordplay as a framework, the music uses improvisation to explore the fringes of traditional forms with recordings and performances ranging from solo to large ensemble efforts.
There is an explicit interest in the materials used for recording with collections often spanning cassette, tape and digital formats. The group's debut LP The Bonk Seems To Be A Verb comprised such a cross-section of idiosyncratic live instrumental improvisations with the group - edited and rearranged to varying degrees after the fact - and has attracted a loyal following since its release in 2017. Shorter digital-only releases have followed while the band's live show has become increasingly in demand.
The second long-player, 'Greater Than, Or Equal To The Bonk' has its origins in two sessions - one recorded to ¼ inch tape in Cork in the summer of 2017 and one captured digitally in December 2018. The structure of the album is mostly abstracted from a combination of these sessions and builds upon musical themes of recursive rhythmic claves, improvisation and minimalist vocal formulations explored on their first album. Arithmetical ideas are here explored in light of their potential use in a musical context - horn sections, drums, bass, organ and percussion all seem to be working on their own clocks, with a complex system of rhythmic dissonances always threatening a sense of incommensurability while the intelligibility of sparse lyrical offerings work in parallel.
'Greater Than Or Equal To The Bonk' is released by thirtythree-45 on 12" vinyl and through digital platforms on 12th May 2023.
"Fronted by O Emperor's Phil Christie, The Bonk giddily infuse 1960s garage with jazz and experimental pop; the end result playing, in its rogue ingenuity, like a reincarnated Captain Beefheart" - Totally Dublin