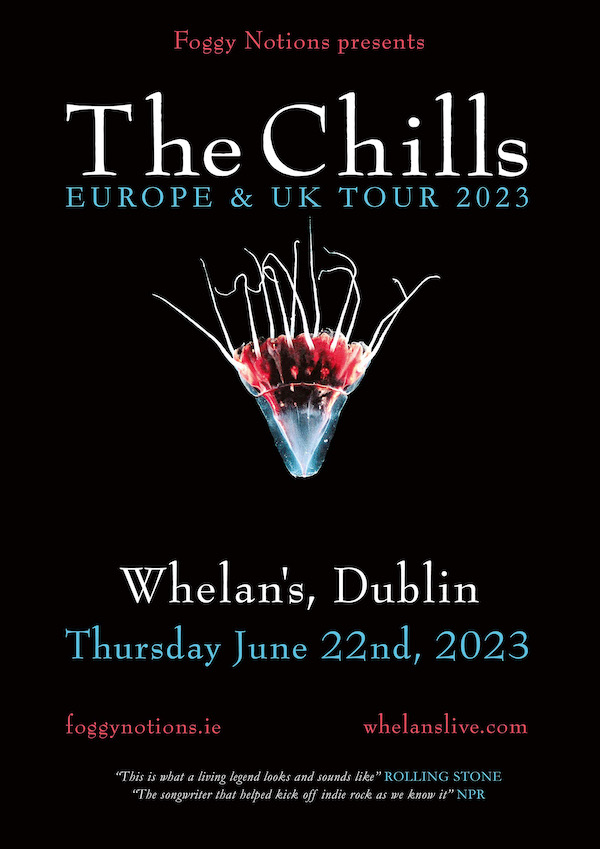 Presented by Foggy Notions
The Chills
Whelan's
June 22, 2023
8 p.m.
Additional Ticket Link
Tickets
All Concerts
---
The Chills
Tickets on sale now.
Back in the UK and Europe for the first time in over six years, The Chills announce an extensive summer tour that includes festival appearances at Primavera Sound.
Following the release of landmark albums 'Scatterbrain' (2021) and 'Snow Bound' (2018), the Dunedin songsmiths helmed by the enigmatic Martin Phillipps will be performing music from these new albums for the first time since their release.
"This is what a living legend looks and sounds like"- Rolling Stone
To celebrate, and with the release of their 'Scatterbrain: Outtakes' exclusive 7" out 3rd February, you can now download 'The Dragon with the Sapphire Eyes' for free via Bandcamp.
This limited edition 7" features three brand new tracks that didn't make the 'Scatterbrain' final cut - it includes 'No One Knows Better Than Me' and 'Nowhere'.
"We felt these were too good not to be released and were actually the first three songs we wrote for 'Scatterbrain' before it's lyrical tone and musical direction became established. It was important to us to offer fans something special on the tour"- Martin Phillipps
A mature and honest reflection on life, destiny and the fate of our times delivered in beautiful melodies from one of today's great modern songwriters. Phillipps' trademarked incisive turn of phrase, is pure pop music viewed from the perspective of a man understanding his own mortality.
"It's about artistic integrity, self-realisation, self-acceptance and a reflection on mortality." - The Guardian