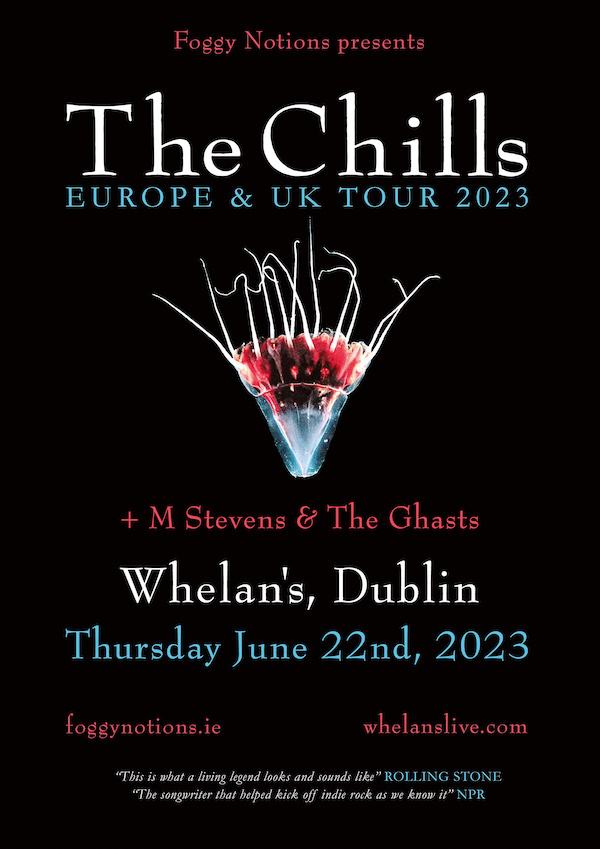 Presented by Foggy Notions
The Chills & M Stevens & The Ghasts
Whelan's
June 22, 2023
8 p.m.
Additional Ticket Link
Tickets
All Concerts
---
The Chills & M Stevens & The Ghasts
Tickets on sale now.
The Chills reveal legendary debut Brave Words (Expanded and Remastered) will be released on double LP alongside a disc of unheard extras out 13th October on Fire Records. Remixed and remastered under the supervision of Martin Phillipps, this special release will feature brand new reimagined artwork by Martin.
"This is an exciting time for The Chills! A new deal with Fire Records means our full catalogue will be back on streaming services again very soon. We're also looking forward to the double LP re-issue of Kaleidoscope World (the one with the extra tracks!) on coloured vinyl. And finally, we'll be releasing the, not just remastered, but also remixed, 1987 album 'Brave Words' with extra material! Over the last few years we have worked with Fire on a number of new releases and re-issues and it just feels right knowing our entire catalogue is now in the right hands." Martin Phillipps
This special release will see Brave Words available for the first time in over 35 years and will be released alongside celebrated singles set Kaleidoscope World on Fire Records. The Chills be touring the UK and Europe, with appearances at this year's Primavera Sound from June 4th. They head over for the first time in six years to celebrate these upcoming releases and their recently acclaimed albums 'Scatterbrain' and 'Snowbound'.
The cult New Zealand group's catalogue is back up on streaming services, with expanded reissues of Brave Words and Kaleidoscope World hitting the shelves in late 2023. Originally released in the mid-to-late 80s, these seminal releases will see the light of day again, prime for a new generation of fans and for long term supporters to snag on vinyl.
The albums feature some of The Chills' most treasured hits, including 'Pink Frost', 'Rolling Moon', 'Night Of Chill Blue' and 'Wet Blanket'. The reissues will also include never-before-heard bonus tracks and previously unseen photos, an essential for any die-hard fan of Martin Phillipps output.
The Chills have long been recognized as one of New Zealand's most influential bands, Brave Words is a shining example of their unique sound and has been praised as a masterpiece by critics and fans alike.