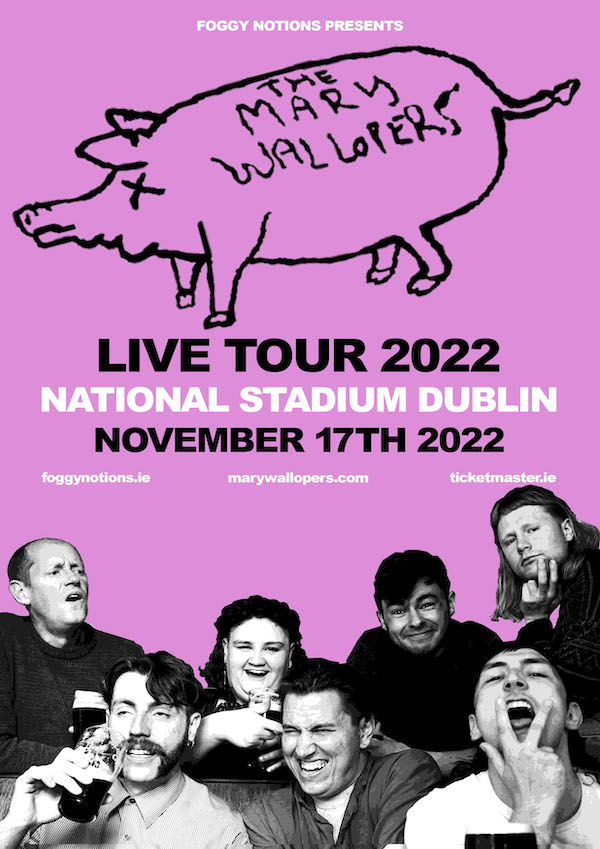 Presented by Foggy Notions
The Mary Wallopers
National Stadium
Nov. 17, 2022
7 p.m.
All Concerts
---
The Mary Wallopers
ON SALE NOW.
The Mary Wallopers release a new track today (29th September 2022) from their forthcoming debut album.
Cod Liver Oil + The Orange Juice is a Scottish song made popular by Hamish Imlach in the '60s. It was written by Ron Clark and Carl MacDougal as a parody of the song Virgin Mary Had A Little Baby, which was big in folk scenes at the time. It was originally recorded for the 2019 EP (A Mouthful of Mary Wallopers) but it never received a proper release so a new version was recorded for their debut album. A definite fan favourite, this ode to drunken revelry and its associated romantic pursuits showcases the Wallopers talent for picking a great song and making it their own.
Cod Liver Oil + The Orange Juice is the second track taken from The Mary Wallopers forthcoming self-titled debut album, due for release digitally and on CD on 28th October 2022 via BC Records (vinyl due for release on 13th January 2023). The album is the culmination of several years of the Wallopers touring all corners of Ireland, collecting tradition songs before dusting them down and reimagining them in their Dundalk rehearsal space. The result is a record that perfectly channels an island's musical history whilst never once sounding overawed by the task in hand.
The Mary Wallopers features eleven tracks arranged by the band and recorded at Ailfionn Studios in Dublin with producer Chris Barry.

Eileen Óg
Love Will Never Conquer Me
Cod Liver Oil + The Orange Juice
John O' Halloran
The Hackler From Grousehall
Building Up & Tearing England Down
Lots Of Little Soldiers
The Night The Gards Raided Oweny's
The Frost Is All Over
Butcher Boy
All For Me Grog
Brothers Charles and Andrew Hendy and their friend Sean McKenna formed The Mary Wallopers as a three-piece ballad group traveling the length and breadth of Ireland singing & collecting songs. Their early live performances exuded a raw energy and their first five track EP - 2019's A Mouthful of The Mary Wallopers - perfectly captured their sound and ethos, one filled with warmth, intimacy, chaos and enough sparks ready to light any fire. The band recently expanded to a seven piece for live performances.
"The Mary Wallopers' trademark charm and irreverence is matched only by their staggering talent" - Hot Press
"The Mary Wallopers invokes the raucous ghosts of the Dubliners and the Pogues to startling effect" - The Guardian
"Best of all was a mischievously brilliant set from Irish band The Mary Wallopers, whose open and gleeful contempt for the audience seems to go by almost entirely unnoticed." - The Independent (at Wilderness Festival)