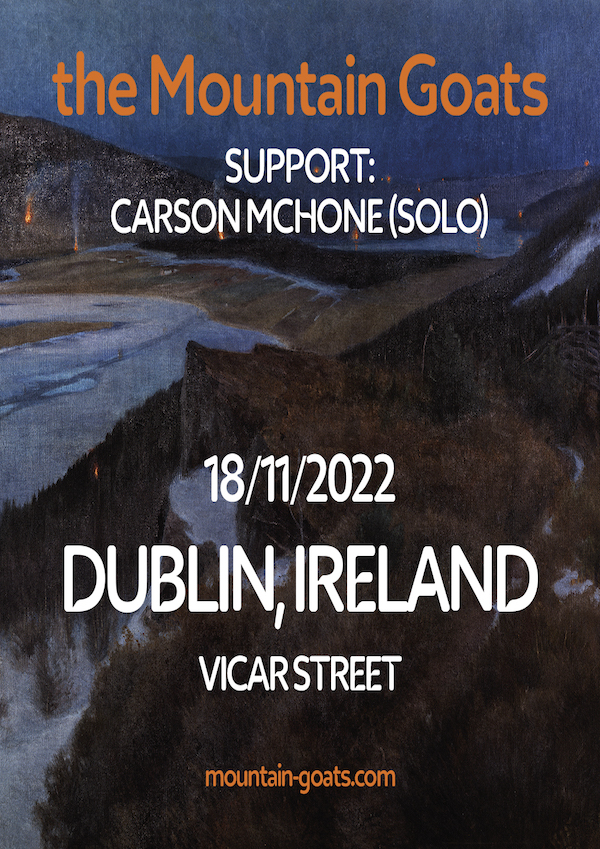 Presented by Foggy Notions
The Mountain Goats & Carson McHone
Vicar Street
Nov. 18, 2022
7 p.m.
All Concerts
---
The Mountain Goats & Carson McHone
Tickets on general sale Friday 11th March at 10:00.
Formed by singer-songwriter John Darnielle folk-rock band The Mountain Goats are playing their biggest Irish show to date at Dublin's Vicar Street.
Darnielle released his first recording as The Mountain Goats, 'Taboo VI: The Homecoming', in 1991. Many of his first recordings and performances featured Darnielle accompanied by members of the all-girl reggae band the Casual Girls, who became known as the Bright Mountain Choir.
Throughout the 1990s, The Mountain Goats were known for producing low-fidelity home recordings (most notably, on a cassette deck boombox) and releasing recordings in cassette or vinyl 7-inch formats. Since 2002, The Mountain Goats have adopted a more polished approach, often recording studio albums with a full band.
The first five years of The Mountain Goats' career saw a prolific output of songs on cassette, vinyl and CD. These releases spanned multiple labels and countries of origin, often released in limited numbers. The focus of The Mountain Goats project was the urgency of writing. Cassette releases during this time include 'The Hound Chronicles', 'Transmissions to Horace', 'Hot Garden Stomp', 'Taking the Dative', and 'Yam, 'the King of Crops'.
In 1994, The Mountain Goats released their first full-length studio album, Zopilote Machine, on Ajax Records. It is the band's only full album featuring the entirety of The Bright Mountain Choir.
In March 2020, while the COVID-19 pandemic left the band unable to tour, Darnielle retrieved his old Panasonic RX-FT500 tape deck and recorded 10 new songs, using the direct-to-boombox method for the first time since 2002's All Hail West Texas. The resulting album, entitled Songs for Pierre Chuvin, was inspired by Darnielle's reading of Pierre Chuvin's 1990 book A Chronicle of the Last Pagans, and was released digitally on April 10, 2020, with a limited physical release on cassette through Merge Records.
The Mountain Goats announced in August 2020 that the band's nineteenth studio album, Getting Into Knives, would be released on October 23, 2020, on CD, vinyl, cassette, and digital.
In April 2021, The Mountain Goats announced their album Dark in Here to be released on June 25, alongside the release of its first single 'Mobile'. The album was recorded at FAME Studios.