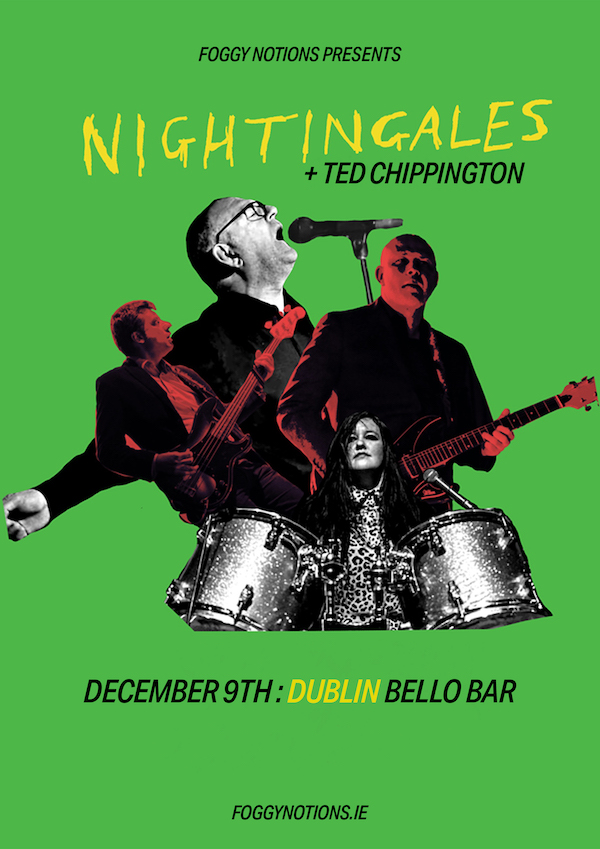 Presented by Foggy Notions
The Nightingales & Ted Chippington
The Bello Bar
Dec. 9, 2023
8 p.m.
All Concerts
---
The Nightingales & Ted Chippington
A special double-bill featuring post-punk legends The Nightingales British alternative-comedy pioneer Ted Chippington. Tickets on sale now.
"Prophets without honour." - Stewart Lee
"They genuinely sound more vital than ever." - UNCUT
"A maelstrom of Krautrockin' grooves, Beefheartian guitars and pummelling percussion. Still scabrous, sardonic and singular, you really wouldn't want it any other way." - Q
"Jetted in to my top ten gigs of all time." - Phil Jupitus
"They're back and they're marvelous." - Marc Riley / 6 Music
"Robert Lloyd, the Black Country Captain Beefheart, steamrolls his unwitting inheritors." - Sunday Times
"Lloyd is the most underestimated songwriter of his generation." The Independent
The Nightingales was formed by a few members of The Prefects following that band's demise in 1979. Described in John Robb's definitive book on post-punk ("Death To Trad Rock") as "The misfits' misfits" and comprising an ever-fluctuating line-up, based around lyricist/singer Robert Lloyd, The Nightingales enjoyed cult status in the early '80's as darlings of the credible music scene and were championed by John Peel, who said of them – "Their performances will serve to confirm their excellence when we are far enough distanced from the 1980's to look at the period rationally and other, infinitely better known, bands stand revealed as charlatans".
The group recorded a bunch of critically acclaimed singles – pretty much always 'Single Of The Week' in the music press – and three albums, plus many radio sessions for their great supporter Peel. They also regularly toured the UK and Northern Europe, as headliners and supporting acts as diverse as Bo Diddley and Nico. In the late Eighties The Nightingales stopped working but, following the occasional gig between times, they re-grouped in 2004.
After fucking about with various part timers, starry eyed wastrels, precious sorts and mercenaries the group arrived at it's current line up, which features Lloyd, Andreas Schmid from Faust on bass, ex Violet Violet drummer Fliss Kitson and on guitar James Smith, who Lloyd had spotted playing with Damo Suzuki. Since restarting the group have been more productive than ever – releasing six 7″ vinyl singles, two 10″ EPs and eight studio albums, touring England, mainland Europe and USA numerous times, playing various festivals and recording many radio sessions along the way.
2019 saw the filming of a feature length Nightingales documentary film, "King Rocker" – written by brilliant stand up comedian Stewart Lee, directed by Michael Cumming ('Brass Eye', 'Toast Of London', etc) – and the recording of a new album.