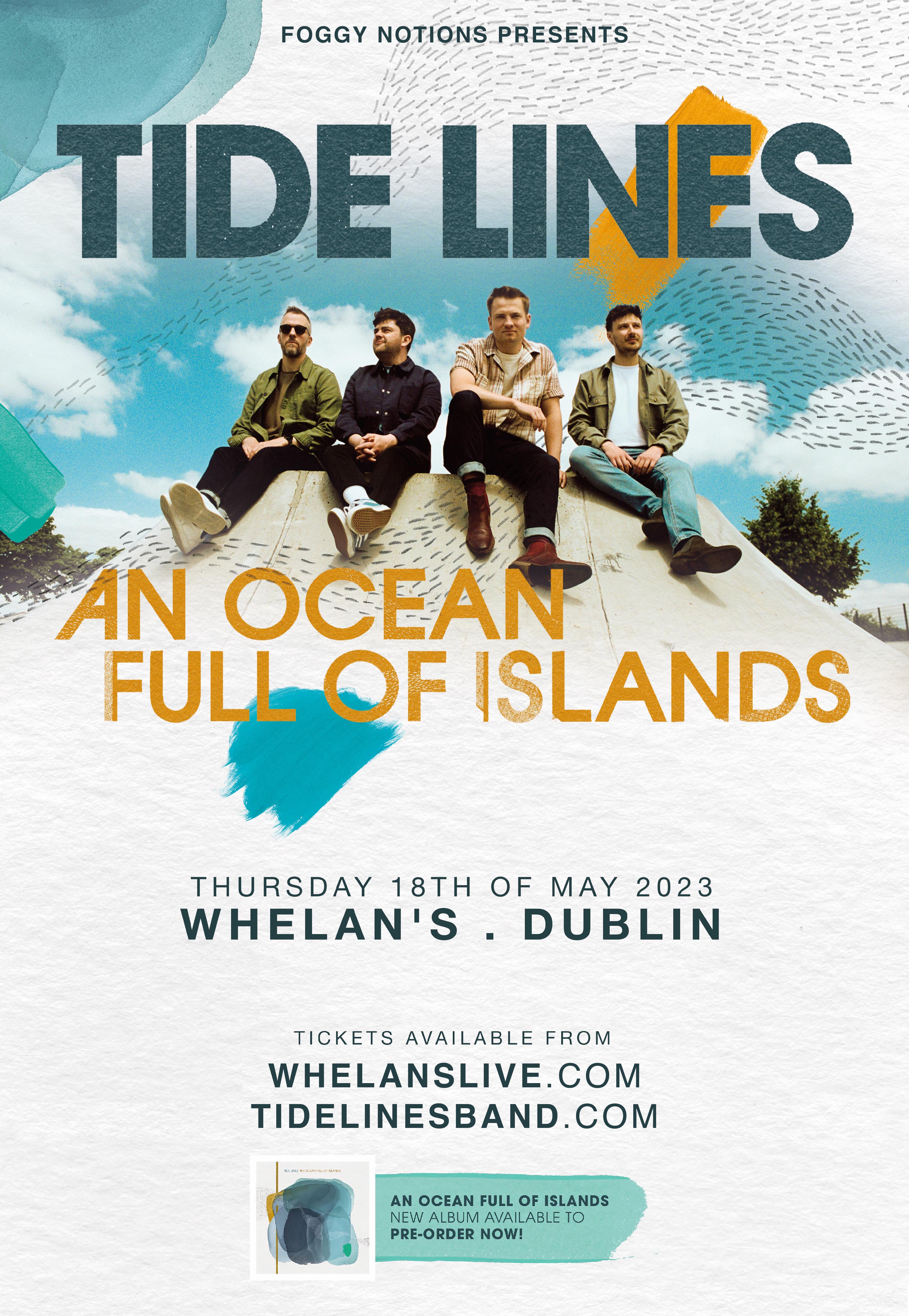 Presented by Foggy Notions
Tide Lines
Whelan's
May 18, 2023
8 p.m.
Additional Ticket Link
Tickets
All Concerts
---
Tide Lines
Tickets on sale Friday 20th January at 10:00.
After their recent return with the single 'Rivers In The Light', Tide Lines can now announce that their new album 'An Ocean Full Of Islands' will be released on February 24th. The album is the follow-up to the successful DIY release 'Eye of the Storm', which entered the charts at #12 in 2020 and only missed the Top 10 by a handful of sales.
Collectively, 'An Ocean Full Of Islands' is equally informed by the towering melodic peaks and rousing choruses of rock as it is by the band's folk heart, with further colour provided with flashes of alt-pop production. Those three elements converge to create a synthesis of three sounds that are rarely unified. And in Robert Robertson, the band possesses a frontman whose voice prospers in whatever context they explore, his rich tone able to reach soaring, soulful highs.
He says, "'An Ocean Full Of Islands' is bigger in terms of the sound. Every track, as I sat down to write it, I thought: I really want this to be the next single. There are still highs and lows – but there are a lot more highs!"
What Tide Lines gained in dramatic scale didn't compromise the intimacy and honesty of Robertson's lyrics. The new single 'Written In The Scars' shows how his voice truly conveys the meaning of his words. Life charges relentlessly forwards, and you rarely have the time to see how your experiences influence who you are. But just like a long forgotten scar, the impact of those moments may fade but they never fully disappear.
He adds, "'Written in the Scars' is a song about the passage of time. Life seems to run at a faster pace than ever before and time flies too quickly as a consequence. The song points out that we seldom find a chance in today's world to lose ourselves in any particular moment."
The process of making 'An Ocean Full Of Islands' saw Tide Lines retreat to their recently purchased recording and rehearsal space in a Baptist church on the Isle of Mull, with keyboardist Ross Wilson again leading the production. Throughout the winter of 2021 and the following spring, the band - completed by Alasdair Turner (guitar, pipes) and Fergus Munro (drums) - became immersed within the solitude of their location to create a set of songs which can take them across the globe.