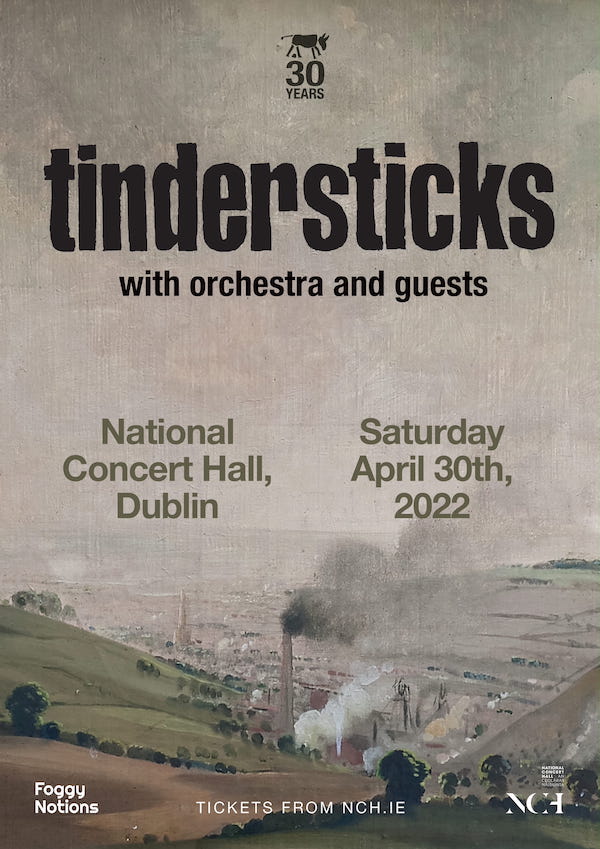 Presented by Foggy Notions
Tindersticks
National Concert Hall
April 30, 2022
8 p.m.
All Concerts
---
Tindersticks
Tindersticks with Orchestra & guests - 30th anniversary concert
The acclaimed group celebrate 30 years since their formation in Nottingham in 1991 with a very special orchestra show. Tindersticks recently released their 13th studio album Distractions. Since their formation they have always pushed the boundaries of arrangement and orchestration beyond the usual standards of a typical indie-rock band.
Stuart Staples spoke to Eamon Sweeney in the Irish Times recently about their latest album, Distractions, Dory Previn and Television Personalities. He reminisces about growing up in tough town, moving to a big city, separation from the Brit Pop zeitgeist of the 90s, working through a lockdown and a new era of change.
Statement from the band: We are happy and relieved to be able to announce our anniversary tour for springtime 2022. We have been and are greatly missing being able to play our music together and for you. But what better time to return than to celebrate 30(!) years of somehow being able to stay dedicated to doing our own thing. And we are well aware and grateful that this has been made possible by the support of our audience. Even though we are not ones to look backwards this seems a time to savour and enjoy for many reasons. We are planning 2 sets each evening, the first as a 5 piece and the second with many of the musicians who have been part of our rich musical family over the years, with most evenings augmented by a local string orchestra. With the help of our promoters the venues have been very carefully chosen: Some favourites and some we have been trying to play for a long time. We are very much hoping to see you all there! To coincide we are working with City Slang to create a career spanning release and other ways to mark this special time. More soon on all this. Roll on 2022!