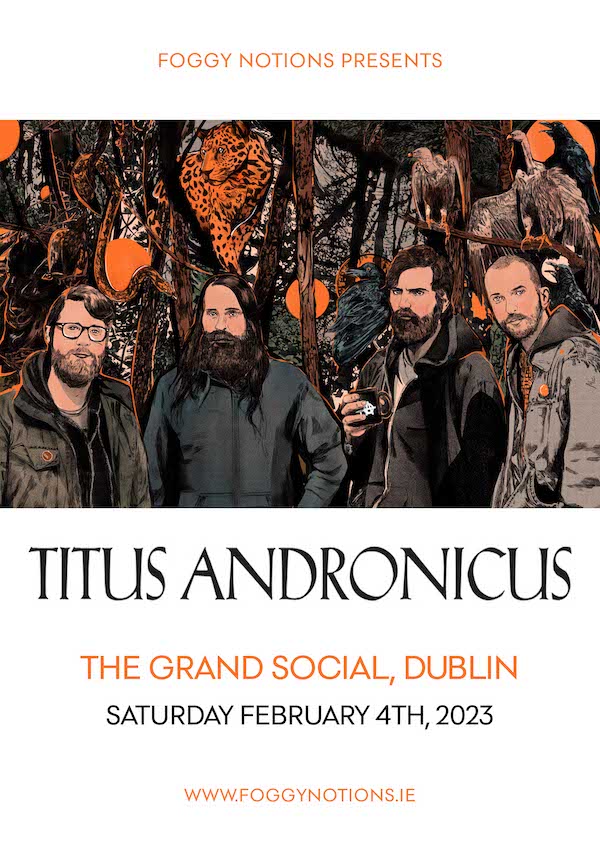 Presented by Foggy Notions
Titus Andronicus
The Grand Social
Feb. 4, 2023
8 p.m.
Additional Ticket Link
Tickets
All Concerts
---
Titus Andronicus
Tickets on sale now.
This summer, revered rock institution Titus Andronicus have stoked fans' excitement for their forthcoming seventh studio album The Will To Live with a string of singles that have run the gamut from concise and hard-hitting ("(I'm) Screwed," "Give Me Grief") to burly seven-minute epics ("An Anomaly"), leaving listeners breathlessly curious about what could possibly follow.
Today, those questions are answered with the album's final pre-release single, the rollicking, rapid-fire 'Baby Crazy', which Vulture described as "an ethics lesson wrapped in a tuneful punk jam." With a barrage of pounding piano chords, ribbons of saxophone and a heart-racing rhythm, the album's ambitions to achieve "Ultimate Rock" are laid bare in just over four minutes. If you were waiting for 2022's answer to 'We Didn't Start the Fire', it's here. The track is accompanied by yet another unforgettable official music video, which finds frontman Patrick Stickles simply belting the densely-worded track as the lyrics scroll by.